ZTE Axon M Teardown Shows A Surprisingly Simple Internal Arrangement
ZTE first unveiled the Axon M with a foldable display back in November in the U.S. The device was launched in collaboration with U.S carrier AT&T. The smartphone also made its debut in China this January. The Axon M has received positive reviews so far but in reality, it is just a step towards developing a foldable smartphone because the Axon M is a smartphone with two screens. In case you are wondering how ZTE was able to mount the two screens on a single smartphone, here is a dismantling video by Zack Nelson on his YouTube channel JerryRigsEverything.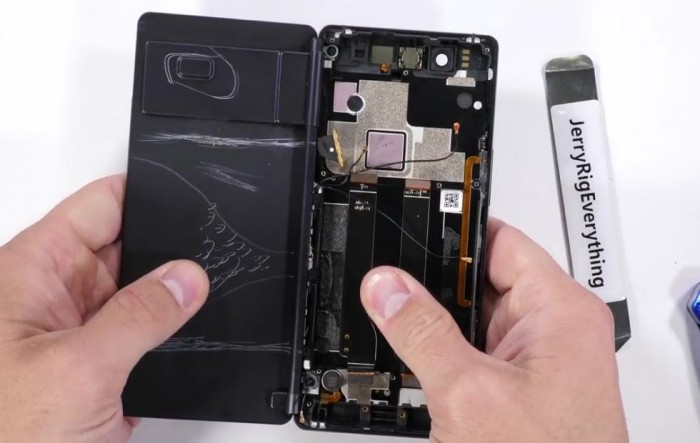 The entire dismantling process is not as complicated as you would expect. Rather it is simple, the front and rear panels, as well as most of the components, are simply held by screws. However, the battery is glued to the panel and the pull tab by the side simply isn't strong enough to pull out the battery. The battery is shown to be a 3180mAH cell which we think is too small for a dual-screen smartphone. The teardown also shows that the connection of the second screen isn't also complicated. The second screen is connected to the first with a couple of hinges and then a cable links both screens. You can check out the video from below.
The Axon M dual-screen foldable smartphone is available online via MyZTE.com and JD.com in China. Interested individuals in China can also get the device offline via China Telecom stores. The device will also come to Europe where it will be available via Vodafone and TIM as well as other "leading carriers". The ZTE Axon M sells for $725 in the U.S when buying outrightly. Customers also have the option of accessing the device through instalment payments via AT&T Next scheme which enables them to pay $24.17 each month for a period of 30 months.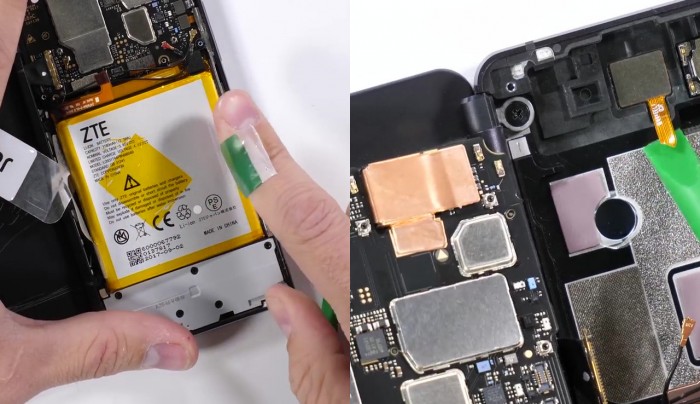 Read More: ZTE Axon M Will Have A Successor: The Company Will Release Another Foldable Smartphone
As a reminder, the Axon M comes with an innovative foldable design which accorded ZTE a CES 2018 Innovation Award. The foldable device packs a pair of 5.2-inch screens with full HD resolution of 1920 x 1080 pixels. It has a single 20MP camera at the rear with image stabilization, PDAF, and 4K video recording. The device is powered by a Snapdragon 821 chipset paired with 4 GB of RAM and there is 64GB of internal storage onboard. The handset is preinstalled with Android 7.1.2 Nougat OS and keeping the lights on is a generous 3,180mAh battery.