Foldable smartphone panel shipments expected to reach 50 million by 2025: IHS
Foldable smartphones are gradually becoming a phenomenon that could soon take the industry by storm. The first real foldable device, the Royole Flexpai, was launched in China recently. The year 2019 has already been predicted to be the year of foldable smartphones just as 2018 was dominated by full-screen phone. Samsung has already revealed that it would be releasing a foldable phone. So too, the trio of LG, Huawei and OPPO have at one point or the order shown interests in foldable phones. Research firm IHS Markit has now predicted that the number of foldable AMOLED screens that will be shipped between now and 2025 will reach 50 million.
Despite the towering prediction, it shows the foldable design won't be so popular as it will account for just 6% of expected total AMOLED shipments by 2025 (825 million). The foldable AMOLEDs are also expected to account for 11% of the total shipments of flexible AMOLED panels (476 million). According to Jerry Kang, a senior principal analyst at IHS Markit  Display Research, phone manufacturers are putting serious efforts in the aspect of smartphone designs, bringing in more innovativeness. This innovativeness is borne out of the need to shift focus from the traditional smartphone market due to saturation.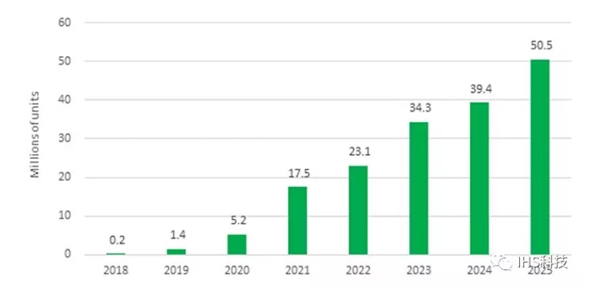 Read Also: Royole Flexpai Hands on video appears: Up-close with the world's first foldable phone
Jerry Kang also disclosed that smartphone manufacturers are rather cautious about launching a foldable smartphone due to concerns about durability especially when the panel is folded repeatedly. Thus, the shift to foldable AMOLED may indeed be a gradual one. The panel makers are expected to gradually increase their plant capacity utilization. Due to the low demand for traditional flexible AMOLED panels, suppliers expect smartphone brands to introduce foldable devices as early as possible. With a more optimistic attitude, some manufacturers are even considering investing in new factories to produce foldable AMOLED panels. IHS predicts that the supply capacity of flexible AMOLED panels will account for more than half of the total supply capacity of AMOLED panel by the fourth quarter of 2019.
(via)