In a bid to provide larger screen space to the user, smartphone OEMs reduced the bezels around the display by launching notched display smartphones. The size of the notch has considerably reduced on newer phones. It seems that making holes in screens is the next trend in smartphone design. Samsung, Huawei and ASUS are some of the companies that are working on smartphones with in-display camera that features a hole in the screen for the front-facing selfie camera. Huawei has been granted patent permission for an in-display earpiece technology at the USPTO that will allow provide another way to offer higher screen space to the user.
Huawei had submitted the patent for in-display earpiece technology in September 2016 with USPTO and it was published in this month. As it can be seen in the below shown illustration image of the patent, the display of the Huawei phone features a very thin hole under which the earpiece is placed. Interestingly, an important feature that cannot be seen on the frontside of the phone is the selfie camera.
The top edge of the Huawei phone is equipped with a 3.5mm and its bottom edge features a slot for what appears to be USB-C port. The smartphone features a curved body with its power button and volume controllers placed on its right edge.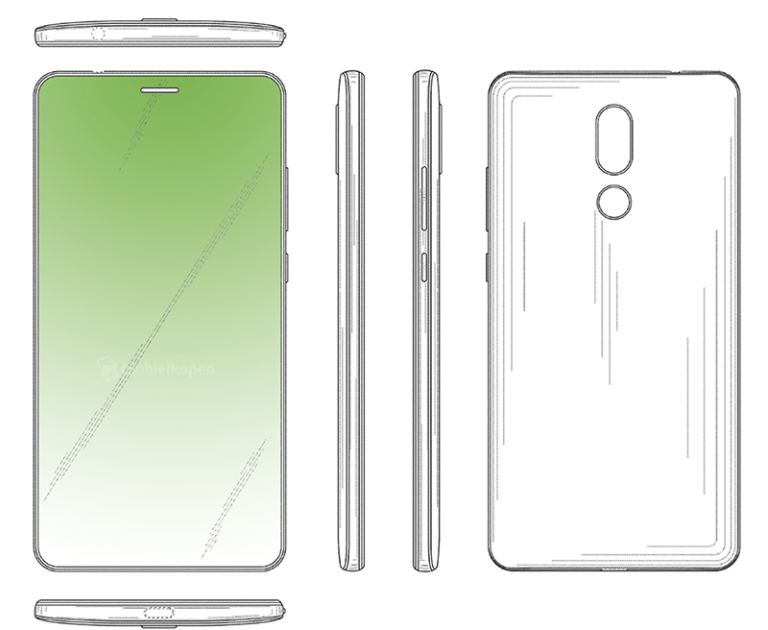 The backside of the phone has vertical dual camera setup. A larger cutout is placed below the dual camera module. Probably, it could belong to an LED flash, but since its size is quite big, it could be meant for the third camera sensor. The cutout could belong to the rear-mounted fingerprint reader.
Many manufacturers submit different kinds of patent designs with bodies like USPTO and WIPO, but approved designs may not end up as a real device. Hence, it remains to be seen whether Huawei will make use of the aforementioned design on its future phones.  As far as in-display camera technology is concerned, it is speculated that the upcoming Huawei P30 series may such a design.