Meizu could be one of the first ones to use Snapdragon 8150
by Simran Singh ago0
There are plenty of rumors about the upcoming Qualcomm Snapdragon 855 aka Snapdragon 8150 SoC. We have got reports that the Meizu's new device will debut on the Qualcomm's upcoming Snapdragon 855 chipset in December. Already, it has been touted to debut with the Galaxy S9 in the early next year with the 5G support and 7nm process. The new SoC will directly compete against the Kirin 980 which have dual NPUs and support for 5G, Apple A12 which is built on 7nm and is already here with new iPhone alterations, and the Samsung's Exynos 9820 which is built upon the 8nm process.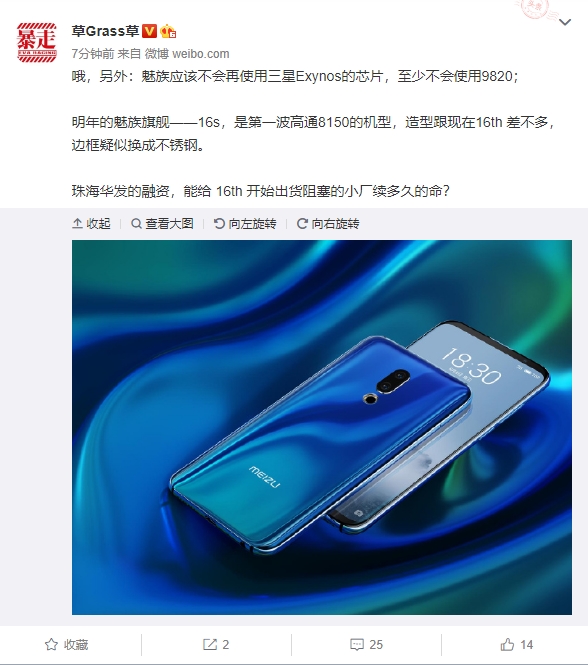 Today a famous user on Weibo posted that the Meizu is set for debut with the Qualcomm's 8150 chip. The new flagship device of Meizu will feature a similar design as that of the Meizu 16th. Only, its frame will be replaced by stainless steel. There will not be any significant change rather than some tweaks in the design of the Meizu 16th.  There is a probability that it might acquire a different approach in design rather than the current full view display.
If the new report is to believe, then the new Meizu 16s or any other Meizu device will be an attraction among the buyers, and it will help them to get some good sales. Still, there are many illusions about the Snapdragon 855, but we have to wait for a month more before we compare it with the competitors such as Apple A12, kirin 980 and recently launched Exynos 9820.
As per the rumors, Qualcomm Snapdragon 855 will have three-clusters CPU, and the core cluster is designed similar to Kirin 980 and Exynos 9820. Further, there will be two super large cores, two large ones and the last will be small cores. It will come with the Snapdragon X24 4G LTE based (2GBps) modem. Though, there are rumors which are also pointing towards its 5G capabilities.
Still, there are still many unanswered questions on the web about Snapdragon 855. We have to wait for some time more for the official debut of it on any mobile device.
(Source)