Samsung Galaxy Note 7 Fan Edition with Android 9.0 Pie appears on WiFi-Alliance
by Simran Singh ago0
It's quite surprising to see Galaxy Note 7 Fan Edition running on the latest Android 9.0 Pie distribution. Today, folks over at Sammobile has spotted the Galaxy Note 7 Fan Edition at WiFi-Alliance running Android 9.0 Pie. As per the source, a total of seven Galaxy devices have been spotted running the Android 9.0 Pie. The list includes all the flagships of the Korean giant launched in over past few years.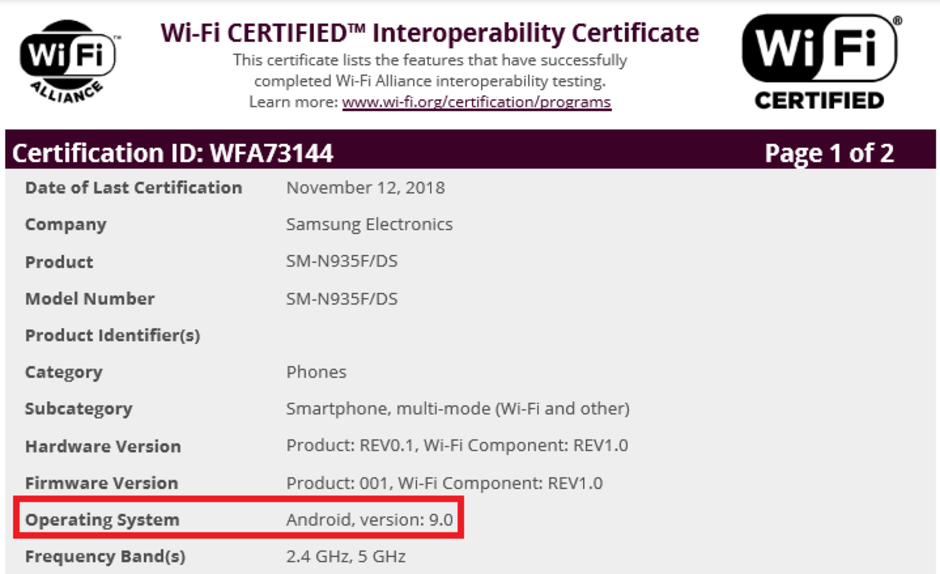 The listings have appeared at WiFi Alliance on November 12, 2018. So, it seems either Samsung is testing the new builds or have successfully tested as they are again certifying the devices from WiFi Alliance. Well, whatever the reason is for again listing on WiFi Alliance, it has given a chance of joy for the users of these devices.
The list of the devices that have been spotted at the WiFi Alliance is:
Samsung Galaxy S9
Samsung Galaxy S9+
Samsung Galaxy S8
Samsung Galaxy S8+
Samsung Galaxy Note 7 Fan Edition
Samsung Galaxy Note 8
Samsung Galaxy Note 9
We hope all the Note 7 FE users are aware of the circumstances about how it evolved out of two recalls in 2016 following several fire incidents. It is a boon for those Note 7 FE users as they will get another chance to endeavor the latest Android system. It carries same specs as like of the Galaxy Note 7 except the Qualcomm Snapdragon 821, which took place instead of a Snapdragon 820. Even, a 3500 mAh battery was replaced with the 3200 mAh battery.
Talking about Galaxy S9 and S9+, then the Korean giant is going to roll out Android 9.0 Pie beta in the next couple of weeks. Units in countries such as the US, Germany, and Spain will be the first ones to taste Android 9.0 Pie.  The final version might be pushed out in January, next year as like of Galaxy Note 9.
Ultimately, the new listing at WiFi Alliance is hinting that Samsung is nearing the rollout of beta tests on various of its flagship smartphones. In the upcoming few days or weeks, you can expect a beta or stable Android 9.0 Pie update on the devices mentioned above.