Haibeisi MacBook docking station launched with 7 external ports available for 199 Yuan (~$28.6)
by Simran Singh ago0
In a bid to increase the compatibility and add up some extra ports for your MacBook, Haibeisi has launched a new docking station. It is on sale now in China via the Xiaomi's store for the price of 199 Yuan. Users can use this third-party product to get additional ports and make some space to attach more accessories to your MacBook. Usually, Macbook always remains short in the number of expansion ports, and it requires exclusive expansion accessories.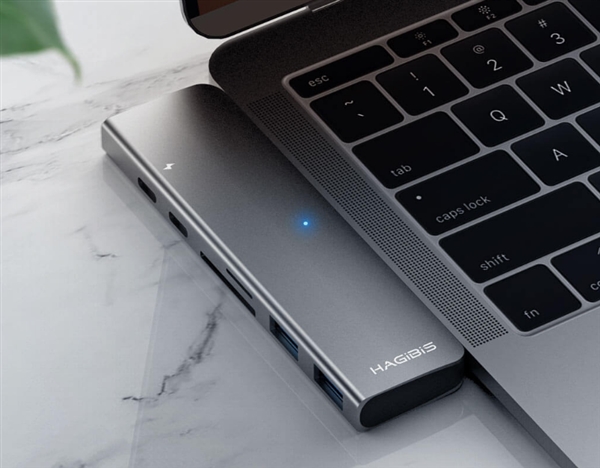 Haibeisi docking station offers Type-C port, HDMI interface, two USB 3.0, SD/TF card slots and a Thunderbolt 3 slot. The new Thunderbolt slot is quite useful and powerful. It can provide data transmission speeds of up to 40Gb/s and can transmit 8K video. It also takes device charging to a different level by giving 100W power and extends its capability to charge Macbook while working.
In order to make it purely native to MacBook, its design has also been crafted on the lines of MacBook. It measures 117x32x10mm and is made from aluminium alloy material with round edges. Haibeisi has polished it with couples of different colours like deep grey and gray colour. Its body is soft and easy to carry as it is quite comfortable to hold in hand. Further, there's also an engraved logo of Haibeisi, and its interface is plated out of high-strength nickel to resist plugging and ageing.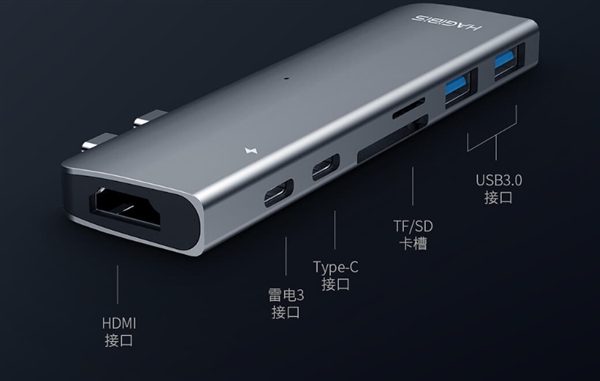 You will also get a light blue indicator on the top to let you know the status of the board.
It will surely help the owners to extend the compatibility using the seven ports present on the docking station. Overall, it will increase the productivity of MacBook users, as they don't have to wait for charging to complete to accomplish another task. So, it is a must buy for users who have the difficulty of using multiple expansion devices at the same time.
(Via)