Cyber Monday Deals 2018: Avail Great Deals, Big Discounts And Lots More!
by Vinay Patel ago0
The end of Thanksgiving holiday marks the arrival of unmissable deals, great discounts etc. Originally created by retailers to motivate people to buy online, Cyber Monday offers a wide selection of top-branded items at unbeatable prices year after year.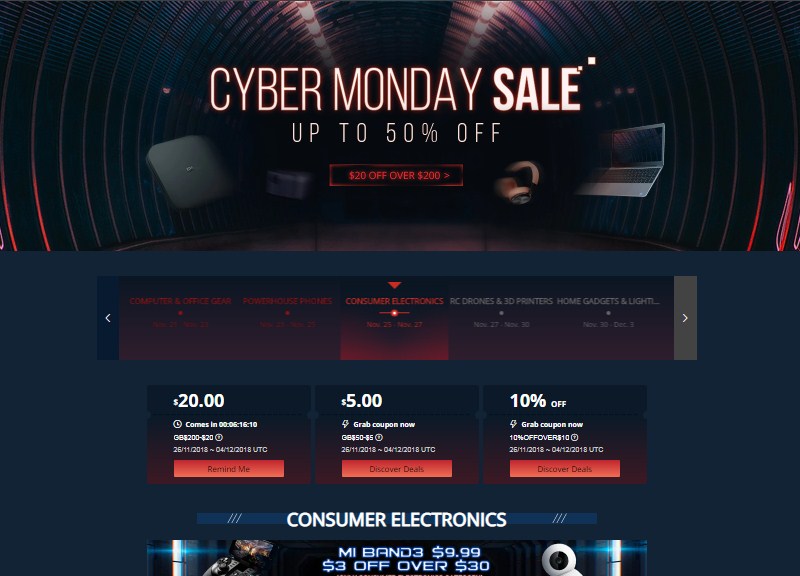 This year isn't any different with popular online stores like GearBest, Banggood, GeekBuying, CooliCool and AliExpress doling out big discounts on numerous items that normally carry steep price tags. So without further ado, let's delve straight into the details.
GearBest Cyber Monday Sale
Deemed as one of China's most popular online electronics stores, GearBest is giving buyers an opportunity to save up to 50% on various items. On top of that, the site is giving $20 off to buyers that spend more than $200.
On top of that, there are additional discounts up for grabs in the form of coupons that you can receive directly in your GB Account by clicking on the 'Discover Deals' button. Aside from a $5 off coupon, there's a 10% off coupon that you can use if your grand total is more than $10.
The rest of the items have been split into multiple categories such as Cool Electronics, Flash Sale, Powerhouse Phones etc.
You can head straight to this link to check out the products that have gone up for sale carrying considerably lowered price tags on GearBest.
Banggood Cyber Monday Promotion
In a bid to keep the frenzy after Black Friday alive, Banggood is giving buyers a lot to cheer about. Banggood is not only doling out great discounts on a slew of well-received products but also offering free X'mass gifts as part of its Cyber Monday Promotion.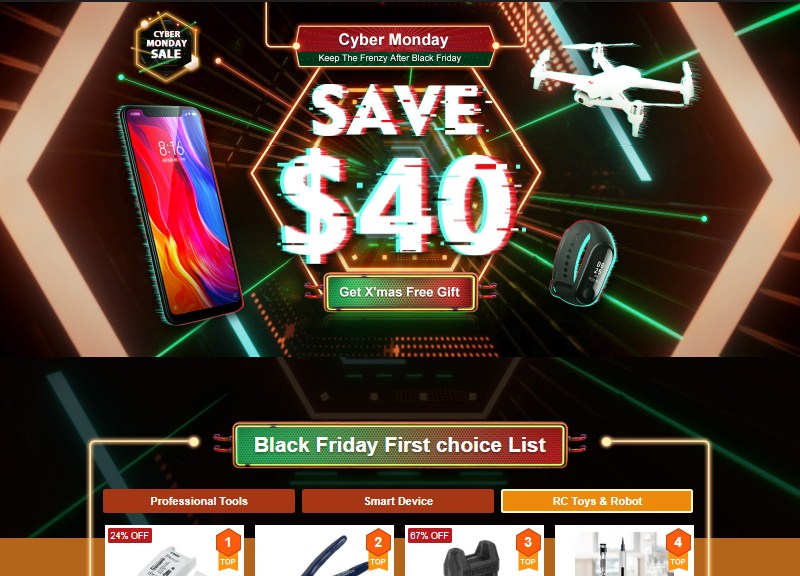 Moreover, the site known for offering the best bang for your buck is giving buyers a chance to save $40 on professional tools, smart devices, RC toys, robots and a slew of other useful items. The promo also includes recently released items like the XIAOMI 70mai Dash Cam Pro that usually sell for$99.99 but can now be yours for only $66.99.
If you're interested in checking out the rest of the categories and grab the discounts before the promo wraps up, all you need to do is to follow this link.
GeekBuying Cyber Monday
If you're a tech buff or a gadget lover looking to get your hands on top-end devices without emptying your pocket, you've come to the right place. You can now get up to a whopping 80% off on a myriad of tech gears on GeekBuying.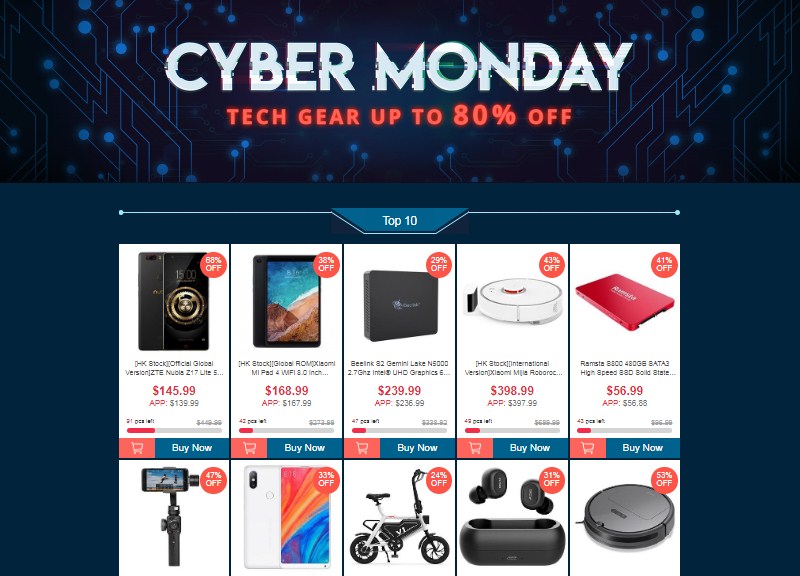 This Cyber Monday promotion features well-received smartphones like the Nubia Z17 Lite, popular tablets like the Xiaomi Mi Pad 4 and lots more. More importantly, all items featured in this promo are currently available for lowered prices.
In a bid to facilitate the search process, products have been separated into various categories like Smartphones, TV Boxes, Laptops & Notebooks, Wearables and numerous other items that come in handy in day to day life. You can follow this link to check out the promotion sale before it ends.
Cyber Monday Deals On CooliCool
If you've been waiting for new products prices to drop, now's the time. CooliCool is offering new products that you can buy for half price i.e. for a 50% discount. As if that weren't enough, the popular online store's latest Cyber Monday Deals promo features a 1% No Threshold Coupon which will be valid for all products.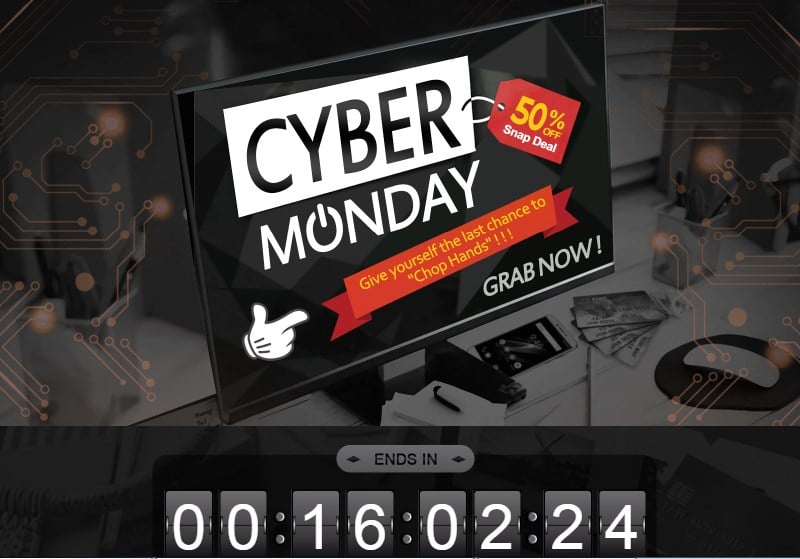 All items shipping from Europe based warehouse will be eligible to receive a $3 No Threshold Coupon, but that's not all. Those ordering their products worth more than $399 from EU warehouse will receive an extra $8 automatically at the time of checking out.
The promo features great deals and big discounts on tablet PCs, laptops, smart wearables, and home appliances. If the promo has stirred your interest, you can follow this link and buy well-received products without emptying your pocket.
Phones & Accessories on AliExpress
The Black Friday & Cyber Monday Sale offers your last chance to avail up to 60% off on high-end mobile phones and various phone accessories on AliExpress. Aside from that, buyers that spend more than $50 can use coupon code Monday to get an extra $5 off on the checkout page.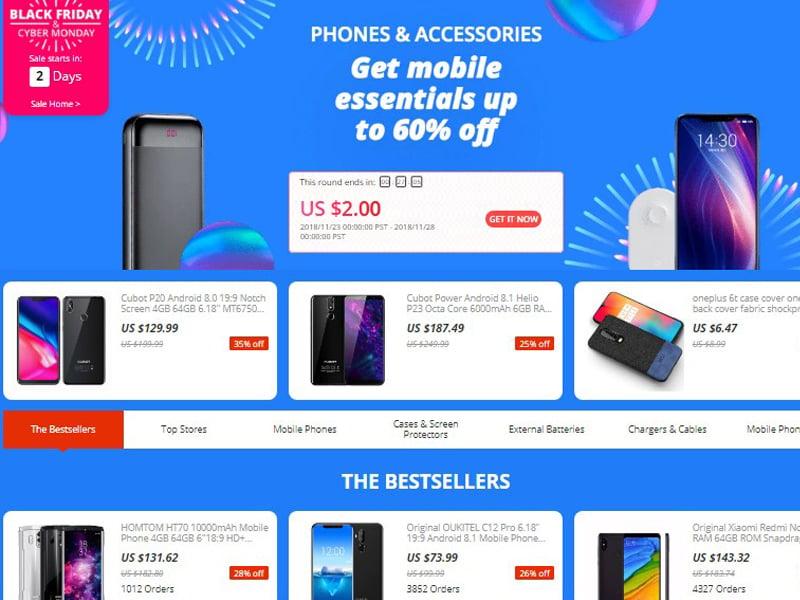 You can even get a $2 off coupon. While the $5 off will expire at 23:59 PT on November 27th, the above-mentioned $2 off coupon can also be used only until November 28th. There are more coupons assigned to the 'Top Stores' category that features brands like Ugreen, Kingxbar, Mofi Manufacturer and lots more.
On the downside, the AliExpress Phone & Accessories promo is on the verge of wrapping up. If you're interested in taking advantage of the promotion sale, you can follow this link without wasting time.