Qualcomm debuts world's first 3D Ultrasonic in-display fingerprint sensor
by Simran Singh ago0
Today, at the launch event of Qualcomm Snapdragon 855, the chipset maker also introduced the world's first 3D Ultrasonic in-display fingerprint scanner. The new chipset is now officially unveiled and it will take place in the flagship device coming in 2019. In order to tackle the increasing competition from the Chinese manufacturers, Qualcomm has introduced its own 3D Ultrasonic in-display fingerprint scanner for major manufacturers.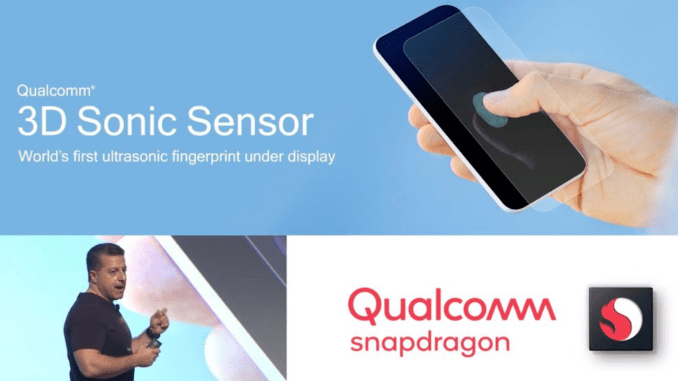 Made in partnership with Katouzian, Qualcomm has priced it little heftily due to its ability to work in different environments. It can perform perfectly with various conditions like oily or wet fingers. It will work accurately unlike the present optical sensors which are unable to read the fingerprint if you have wet or oily hands.
The new 3D Ultrasonic fingerprint reader will work with the help of sound waves. The fingerprint mapping will take place with the sound waves. The sound waves will measure valleys and peaks on the finger and will match it with the preset. The new ultrasonic sensor has made a way for the wider functional area for an on-screen fingerprint. In the optical sensor, a user has to touch a specific part on the display, but in the latest technology, a user will have a bigger surface area.
Explaining the working, Qualcomm said in a blog post that "This is the only mobile solution that can accurately detect fingerprints through numerous contaminants. Furthermore, this technology enables sleek, cutting-edge form factors while distinguishing itself from alternatives with higher levels of security and accuracy."
It is an astonishing invention in the fingerprint scanner market. It can be used in smartphones, tablets, other gadgets as the primary mode of authentication. Its full working is currently not out, but we will let you know how it works in the future.
Currently, it is not clear on which devices 3D Ultrasonic fingerprint sensor will debut. Some more details will surface soon until then stay connected with us.
(Via)