China Mobile Partner Conference has kicked off in Guangzhou, China. Xiaomi has demonstrated the Mi MIX 3 5G edition at the Chinese exhibition. Now that the 5G capabilities of the Mi MIX 3 has been publicly demoed, it appears that it will be one of the first 5G phones to go official in the coming year.
Xiaomi will be one of the companies to participate in the China Mobile 5G pre-commercial city field test that will take place in Q1 2019. At the exhibition today, Xiaomi demonstrated web browsing and video calling of the Mi MIX 3 5G variant to reveal what sort of 5G experience people can benefit from in the near future.
The Xiaomi Mi MIX 3 5G edition is powered by Snapdragon 855 chipset that is equipped with X50 LTE modem that brings 5G capabilities to the phone. Combined with Xiaomi's smart antenna switching technology, the Mi MIX 3 5G version can achieve up to 2 Gbps of download speeds. The smartphone reportedly features aviation polymer cooling technology for creating high-efficiency heat conduction system for enhancing the user experience. The rest of the specs of the 5G version of the Mi MIX 3 could be same as its regular version.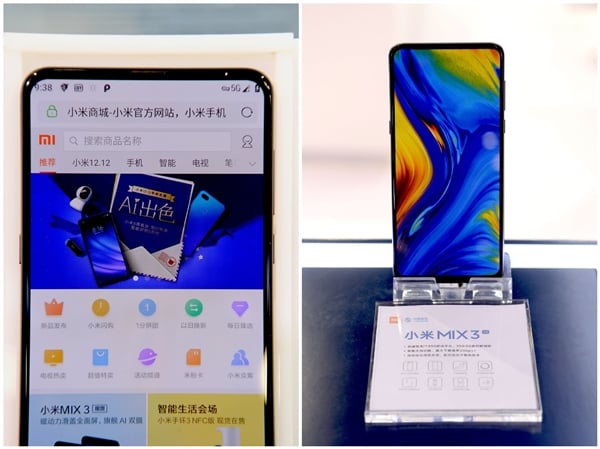 The Xiaomi Mi MIX 3 5G edition has a ceramic build. It I a slider phone with a 6.4-inch AMOLED screen that offers 93.4 percent screen-to-ratio. The slider of the smartphone is fitted with 24-megapixel + 2-megapixel dual selfie snapper. The back panel of the handset is fitted with a pair of 12-megapixel cameras. It includes 3,200mAh battery that supports Quick Charge 4.0. The smartphone has received MIUI 10 flavored Android 9 Pie OS update. There is a possibility that the Mi MIX 3 5G edition may include 10 GB of RAM and an inbuilt storage of 256 GB. The smartphone will go official in Q1 2019 and the first market to receive it could be Europe.