"Google" tweets it will start charging Chinese OEMs this year, then deletes it
by Habeeb Onawole ago0
Google or rather the official Android Twitter account tweeted that it will begin charging Chinese manufacturers such as Huawei, Xiaomi and ZTE and several others starting Q3 2019. Moments later, the tweet was deleted. Confused? Don't be.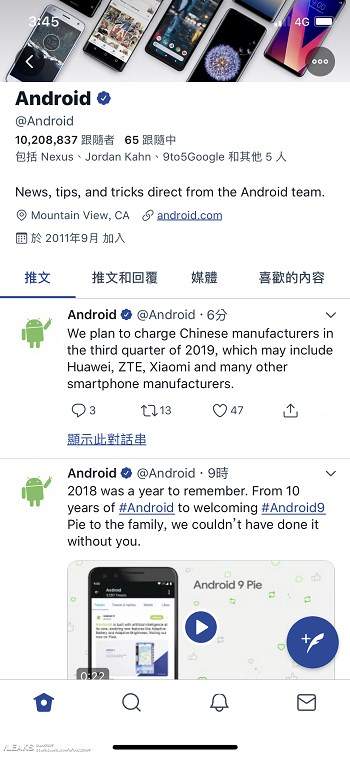 First, some backstory. Last year, the European Commission fined Google €4.34 billion for breaching EU antitrust rules. The European Commission said Google had imposed illegal restrictions on Android device manufacturers and mobile network operators to cement its dominant position in general internet search. Google is said to have done this in three ways:
requiring manufacturers to pre-install the Google search app and Chrome browser as a condition for Google Play store licensing
paid certain large manufacturers and mobile network operators to exclusively pre-install the Google search app on their devices
prevented manufacturers wishing to pre-install Google apps from selling their mobile devices with forked versions of Android that were not approved by Google
The commission says these are all illegal under EU antitrust rules.
Google had to update its regional compatibility agreement in October 2018 to allow manufacturers to unbundle key services from the Android OS. However, if you wanted to unbundle some of these services e.g. Play Store, you had to pay a licensing fee. Manufacturers that want to include Google Search and the Chrome browser would not be charged. Apparently, the licensing fee for those who don't want search and chrome is sort of payment for the development and free distribution of Android. These new rules apply only to devices shipped into the European Economic Area.
READ MORE: Google's "Dragonfly" censored search engine for China has reportedly halted after internal confrontation
Going back to the tweet, it appears Google wants to start charging Chinese OEMs too which include Huawei, ZTE and Xiaomi starting later this year. It is still not clear if these phone makers will be charged for their phones sold in the EU only or if it is for their phones sold in their home market.
(Via)