[VIDEO] Oppo Finder, the world's thinnest and strongest Android Phone use as a hammer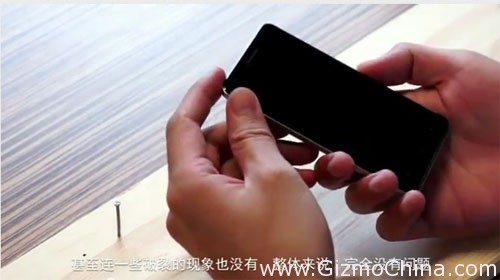 Oppo is the one of smartphones manufacturers from China, has been launch Oppo Finder smartphones with a thickness of 6.65 mm or about 0.6 cm only. With a thickness of 6.65 mm Oppo Finder makes it into the thinnest smartphone in the world.
Thanks to engineering advancements chips and other components such as PCB and other electronic components allow manufacturers to create ultra-thin smartphone like this Oppo Finder.
Although the size of the Oppo Finder smartphone is very thin, do not make too thin in the hardware specifications of performance, Oppo Finder has the hardware specs are pretty convincing. But the thin size doesn't mean the phone is fragile. In fact the company recently demonstrated the phone's toughness by using it to hammer several nails into a wooden board.
Oppo Finder is powered by dual core processors or dual-core SoC (System on Chip) ARM with a speed of 1.5 GHz and memory backed RAM (Random Access Memory) for 1 GB to produce responsive performance. Made by the world's thinnest smartphone is equipped Oppo internal storage capacity is quite large, up to 16GB.
Oppo Finder Smartphone is equipped with a screen size 4.3 inch AMOLED technology, this smartphone use the Google Android 4.0 Ice Cream sandwich operating system. You can get Oppo Finder on Android-Sale.com
Short Description
– 4.3 inch Super AMOLED Plus screen
– 6.65mm super slim body, world's thinnest smartphone
– 1.5GHz dual-core processor
– 8.0MP rear camera + 1.3MP front camera
– 1080P video record
– 1GB RAM, 16GB ROM
– Android 4.0.3 OS + OPPO Unique