DROID X360, PS Vita Knock-off with Android 4.0 OS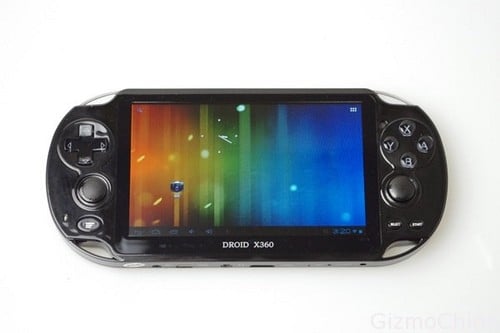 Had a great impact on the rise of Tablet PC at the same time for the handheld market, networking and intelligent has become the trend of the times, a simple gaming device has been difficult to arouse people's interest, and Android tablet also draw on the advantages of other products, brought following a similar PSP appearance of intelligent game tablet from Shenzhen Xun Long, product name DROID X360, using the A10 chips, 5-inch capacitive screen, running Android 4.0.4 system has now been officially revealed.
Handheld games console such as flat panel features a video game appearance, the analog stick and four-way controller, built-in handheld simulator can run the games of the general category, the other is also a Tablet PC, Internet, watch videos, chat can completed, this is the another Android platform game console on the market. Prior to the launch of the game flat-panel multi-use the AMlogic or Sunplus program A10 also reached in this market, richer product variety to choose from.
Fast Dragon This product uses the 5-inch capacitive screen, touch and display more nuanced, built-in nine games simulator key games (arcade games, Nintendo 64 3D games, Sony PS1 games, Nintendo GBA, Nintendo, GBC, FC (the NES ) games, SFC (SNES) games, Sega MD games, Sega GAMEGEAR games), wifi direct dual-rally, the the Android-based gravity games, the Android touch games, running Andrtoid 4.0.4 system, support 2160P HD decoding, HDMI output, completely continuation of the characteristics of the A10 program.
Technical specs: A10 1.5GHz processor , 512M memory, 8G storage, 5-inch with 800 x 480 multi-point touch screen display, Android 4.0.4 operating systems, HDMI output, TF card expansion, MiniUSB expansion, camera with video calling capabilit, the PSP game appearance, built-in 2800 mAh battery.