Microsoft launch Outlook e-mail services, replacing Hotmail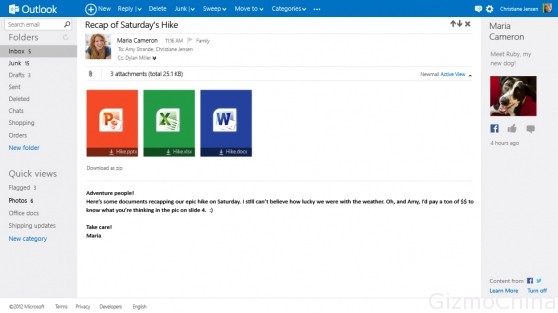 Microsoft has just launched a new email service thats called Outlook, which replaces the Hotmail services. However, one day was launched, Microsoft said via Twitter account saying that there were already a million users who use Outlook email.

Outlook email service itself provides a very attractive feature. This email services is integrated with Skype and Office, you are incredibly helpful for those who are accustomed to working with email. No wonder so many people are interested in this email.
Deliberately replaces the Microsoft Hotmail service. They assume that Hotmail has a problem in branding. Even the issue seriously enough. As a result, the technology community is less interested in Hotmail email.
Quite interesting if this is going to Outlook email can beat the number of users of Gmail and Yahoo who have millions of users in the world. And, most importantly Outlook users also have more than Hotmail users. Then, if you want to try this new email, you can go to the site http://www.outlook.com
You can connect this e-mail account to your mobile devices, for instance Windows Phones, iPhone, Android and BlackBerry. And you can import your Twitter and Facebook contact throug this Outlook e-mail services, do you want to try?