Another hit from Xiaomi phone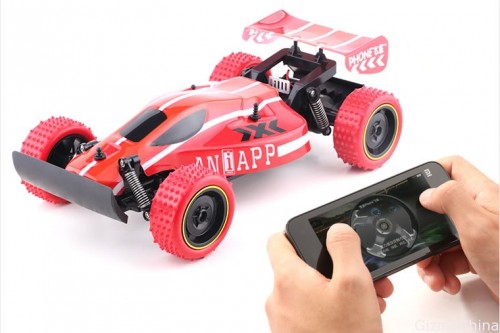 If you're thinking that Xiaomi only produce the smartphones, you're realy wrong, because now they produce the entertainment product, like remote control car which controled by Xiaomi phone through WiFi connection.

The user can controls a red car through an app on a Xiaomi smartphone which using Android operating system but you can control this car using iDevice too (iPhone, iPod Touch, iPad). Xiaomi provides a dedicated application to control the car, it uses wifi signal, and the controlling distance can reach up to 20 meters. It's a 4-wheel-drive buggy with independent suspension.
Lei Jun Lei, as a  founder and CEO of Xiaomi Corp says "We plan to install a WiFi camera on the car and sell it for 199 yuan, We do not target our products at the general consumers, but at geeks, who are interested in experiencing advanced technology and trying new products,"
It's a unique market focus, despite the niche target, Xiaomi and its high-end smartphones are making waves with the broader public. Xiaomi has been successful in the Chinese smartphone market by a valuable smartphone that has smart features such as allowing users to customize the phone's internal memory and offering an intuitive mobile messaging app.