Adobe stop supporting Flash Player in Google Play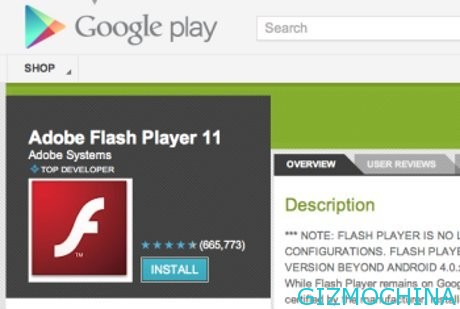 Early 2012, Google plans to stop using Flash Player on online application store, Android Market. Today, Google officially announced the cessation of support for software owned by Adobe Systems.

After stop supporting Flash Player, then all Android phones will not get the update from Adobe if there is a bug in Flash, unless the application is installed on the initiative early phone vendors.
Quoted from PC World, not just Google, Adobe had also agreed to dismiss their support and ask the user to delete the software on the device.
Along with the presence of Android Jelly Bean later that already does not use Flash, then Adobe was firmly stop all the updates related to the application. Particularly in Google Play.
Google's decision to no longer use Flash in Jelly Bean considered 'kills' the existence of Flash in the realm of smartphones. Moreover, Apple also has made a similar move recently. Instead, the two companies will jointly carry HTML 5 as a standard platform.