MIGO G9088, the HTC One X knock-off with MTK6577 chipset & 12MP camera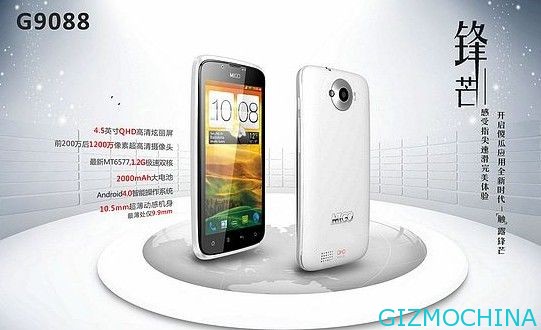 Earlier this year we have many interesting smartphone products out there, some of which is released by HTC is HTC One X, Samsung released the Galaxy S III, Windows Phone 8 is also ready to be launched, while Xiaomi also released Xiaomi MI2 and Apple planned to release the iPhone 5 in September.

But in the domestic market, we also have some exciting smartphone products and one of them is MIGO G9088 which is a clone of the HTC One X smartphone. This phone has the same shape as the HTC One X and have the same specs as the Xiaomi MI2 smartphone. This phone uses the MT6577 chipset which has better performance for the smartphone market today.
MIGO G9088 not only has a stylish shape but also has almost the same specs as the HTC One X and Xiaomi MI2 that offers good performance for the users.
It has a thickness of only 10.5 mm, MIGO G9088 comes with QHD screen measuring 4.5 inches screen size, the screen is smaller than the HTC ONE X which has 4.7 inches screen size, but larger than Xiaomi MI2 that just has 4.3 inches screen size.
Powered by a 1.2 GHz dual-core processor, powered with 2.000 mAh battery plus adding the two cameras on the front and rear, while the front-facing is 2 megapixel and the rear camera is 12-megapixel. This phone powered Android 4.0 Ice Cream Sandwich. And comes with 512MB of RAM and 4GB of ROM. According to the plan, the MIGO G9088 smartphone has 1.500 yuan price tag.