Kuphone S9, yet another iPhone 4S imitation from China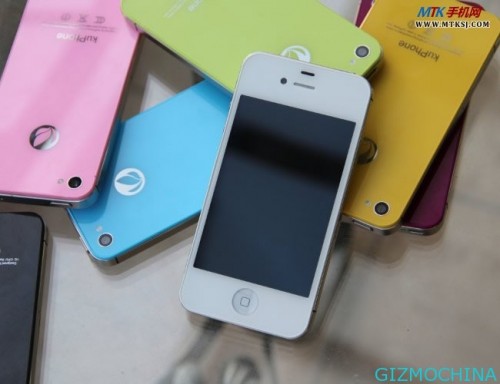 After we all known the news about Apple lawsuit to Samsung, and now Samsung have to pay the compensation as much as US$ 1,051 billion to Apple because Samsung copying fews patent from Apple product. But now there is Chinese manufacturer who make the iPhone imitation, that's Kuphone S9.

We have ever covered the iPhone 5 knock-off picture before, but Kuphone S9 has look like the iPhone 4S rather than iPhone 5, the body, form factor, the bezel and camera and speaker position exactly same with original iPhone 4S. The different things is only on  their operating system, while original iPhone using iOS made specially by Apple, but Kuphone S9 is equipped with Android 4.0 operating system
The Kuphone S9 sports with 3.5-inch LG original IPS retina display with 960 x 640 resolution, qHD screen with 326 ppi. The top of the screen is a 1.3 megapixel front facing camera while in the original iPhone we can find the 3.0 megapixel camera on it. But the S9's surface screen is using anti-grease, anti-fingerprint coating and more user-friendly design.
On the rear body of S9 has a 5-megapixel main camera with auto-focus with LED flash. The back body has cool logo, thats logo is look like leaf rather than Apple. The S9 powered by MT6577 dual-core chipset, the processor running on 1.2GHz, 512 of RAM and 4GB of ROM combination, support gyroscopes, gravity sensing, direction sensing, and light sensing which offers a good combination feature for the user.
Kuphone S9 also offers two kind of storage capacity 8GB and 16GB, while you can buy the 8GB version with 999 yuan and the 16GB with 1199 yuan, but the body dimension is same with 115.2mm x 58.6mm x 9.3mm.