Samsung officialy unveiled Galaxy Note II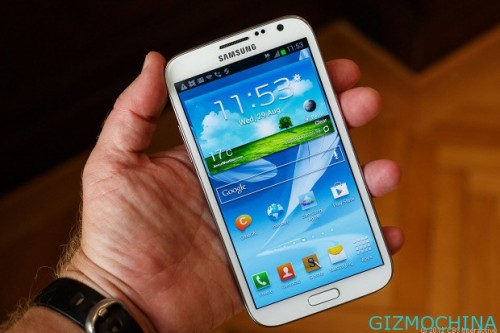 Galaxy Note II officially introduced by Samsung. This Android handset which has bigger screen is claimed as the one of most sophisticated smartphones on the market today. The specifications are classified as 'monster'.

"Samsung created a new category of gadget Note. Now, the Galaxy Note II is larger, brighter and faster. the New S Pen feature is also more powerful," said JK Shin, Head of Samsung's Mobile Communication at Tempodrom, Berlin, Germany.
The Galaxy Note II form factor look like the Galaxy S III and has same design. But with a 5.5 inch screen, the Galaxy Note II are much bigger. Even bigger than the first generation Galaxy Note that measuring 5.3 inches.
Samsung claims the Galaxy Note II is the most powerful smartphone today. Indeed, with the 1.6 GHz quad-core processor, 2GB RAM and powered by 3100 mAh battery, hard to find matching 'monster' phones in the market.
Note II has also been put on the latest Android operating system, the Jelly Bean. Some of the new features added in the software sector, one of the interesting called Air View at S Pen.
The Air View features allows users to preview a variety of menus with a stylus S Pen without the need to touch the screen. For example, want to know the contents without opening the message, just point the S Pen to the message. Then preview the contents will be pop-up on the screen.
Galaxy Note II is scheduled to go on market in October, the first time in Europe. Then visited various parts of the world, including China.