KuPhone S9 vs Apple iPhone real machine comparison picture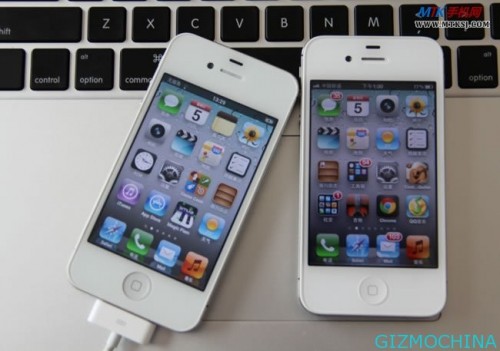 After we have covered the KuPhone S9, the Apple iPhone knock-off recently, we have a couple photo comparison between KuPhone S9 and Apple iPhone 4S real machine.

While the Apple iPhone using with iOS operating system, the KuPhone S9 is equipped with Android 4.0 Ice Cream Sandwich operating system, but KuPhone S9 using iOS theme so there is no different interface between fake OS and real OS here.
The KuPhone S9 is also equipped with the the A9 architecture dual-core processor, running 1.2GHz clockspeed processor with the 326 PPI retina screena and resolution up to 960 x 640 pixel. The top of the screen is a 1.3 megapixel front facing camera while in the original iPhone we can find the 3.0 megapixel camera on it. But the S9′s surface screen is using anti-grease, anti-fingerprint coating and more user-friendly design.
Here is the picture comparison between both device :