Finally, iPhone 5 is coming!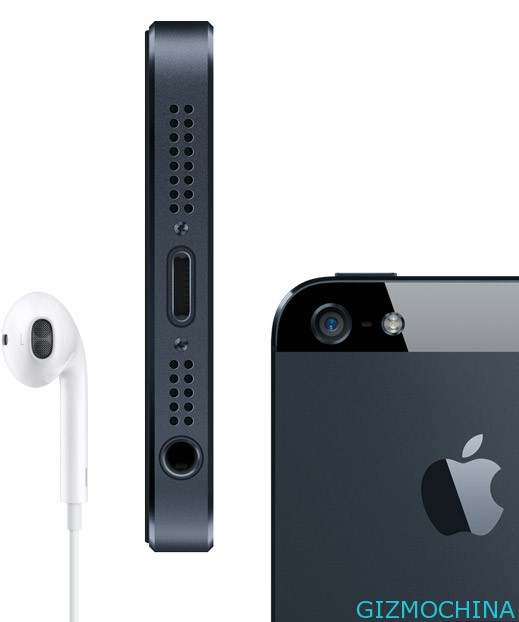 After many months, the rumor spread and blowout, It's now there is an answer for all your question and Apple unveiled the new iPhone on September 12, the event helds in Yerba Buena Center in San Francisco, California. And finally the iPhone 5 is coming!

Apple finally answer the curiosity of the public by announcing the latest version of the iPhone that has called "iPhone 5". By Apple, this sixth generation smartphone comes with some new technology.
Shortly after Apple CEO Tim Cook came on stage and gave his keynote speech about the success of the Apple Store, iPad sales to the application, turn to Phil Schiller, Apple Senior Vice President of Worldwide Marketing taking the stage.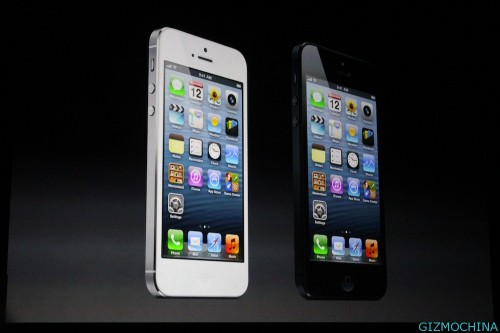 "And this is the new iPhone, called the iPhone 5," he said, iPhone 5 comes with a thinner body and claimed the design is very elegant. Even Schiller called it the most beautiful products ever made by Apple.
"iPhone 5 is made entirely of glass and aluminum. This is the thinnest smartphone in the world. Weighing 112 grams, 20% lighter than the iPhone 4," he said. In addition, the iPhone 5 brings 4 Inch screen which is also wrapped with technology Retina Display resolution 1136 x 640 pixels 326pi.  This handset comes with a larger size, more powerful processor and 4G connectivity LTE (Long Term Evolution).
Theoretically, LTE can download up to 100 Mbps. Apple working with operators in different countries that have already laid LTE connectivity, so the iPhone can be smoothly used with those connection. In the U.S., Apple took with Sprint, ATT and Verizon wireless.
The processor in the iPhone 5 is A6. The processor is claimed to 2 times faster than the A5 and two times more reliable in terms of graphics. Various other updates to the iOS 6 operating system is 3D map service.
Ipod Nano and iPod Touch
In addition to the iPhone 5, Apple refreshed its music player line, the iPod. iPod Nano and iPod Touch refreshed with new designs and capabilities.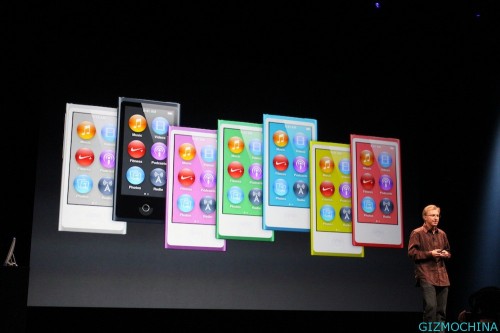 The seventh-generation iPod Nano is only 5.4 mm thick, 40% thinner than previous generations. Has 2 inches multi-touch screen display. There is a default application for sports, like Nike+.
iPod Nano has Bluetooth, but no Wi-Fi and web browser. This gadget is claimed to be able to continously playing music up to 30 hours.
Apple also updated the iPod Touch. The fifth generation of its shape is similar to its predecessor, but it has 4 inch wide screen. 6.1 mm thick and 88 grams of weights.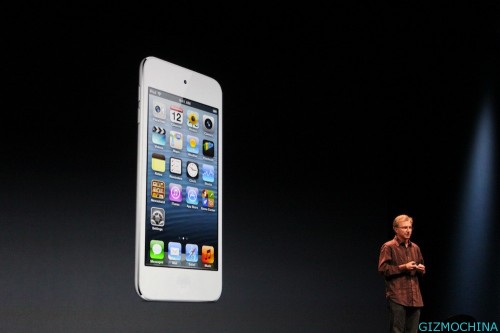 iPod Touch powered by A5 processor. Apple claims the processor makes the new iPod Touch is 7 times faster in terms of graphics than the previous model.
The power of the battery is claimed to last 40 hours for playing music and 8 hours for video. Pack with the 5 megapixel camera. This camera can record 1080p video, while the front camera can make FaceTime video calls HD.
This latest-generation iPod Touch is also equipped with Siri, a voice command that initially only in the iPhone 4S. With it, users can do things simply by voice.
Recap from the Apple Events:
iPhone 5: 112 grams (20 percent lighter than 4s), 7.6 mm (18 percent thinner), 4-inch display (up from 3.5 inches), 1136×640 pixel resolution (up from 960×640), a fifth row of icons on the screen, 44 percent more color saturation, LTE network compatible, available on Verizon/Sprint/ATT, processor and graphics are 2x faster (new A6 chip).
Battery: will "exceed battery life of the iPhone 4s." 8 hours talk time, 8 hours browsing, 10 hours wifi browsing, 10 hours video, 40 hours music, 225 hours standby.
Camera: 8 mp, 3264×2448 resolution, f/2.4 aperture, 25% smaller, improved low-light quality, panorama feature, 1080p HD video, front-facing Facetime camera updated (720p) and face detection, improved mics and speakers,
Dock and connector:
New connector is called Lightning, 8 pin, reversible (adaptor available for current connector).
Pricing: $199 (on contract) for 16GB, $299 for 32GB, $399 for 64GB. Pre-order Sept. 14, ships Sept. 21. iPhone 4 will be free (8GB), 4s will be $99 (16GB).
iOS 6 adds Apple's own map app, with turn-by-turn directions and a new 'flyover' satellite view. A smarter version of Siri, too. iOS 6 comes out Sept. 19. Will work on iPhone 4, 4s, 3GS, new iPad, iPad 2 and 4th generation iPod Touch.
iTunes 11 makes it easier to manage playlists. Adds a "coming next" button to change the song queue quickly.
iPods
iPod Nano: 5.4 mm thin, 2.5-inch display, new Lightning connector, fitness features built in, Bluetooth, widescreen video.
iPod Touch: 4-inch Retina display (up from 3.5 inches), 88 grams (down from 101 grams), A5 processor, 7x faster, 5mp iSight camera (with Panorama feature), available in five colors. New headphones called Earpods (available now and will come with new iPhones and iPods).
iPod shuffle is $49 for 2GB. iPod nano is $149 for 16GB. iPod touch is $199 (16GB) $249 (32GB), $299 (32 GB) and $399 (64GB).