The CUBE tablet will offers 2048 × 1536 retina display for domestic market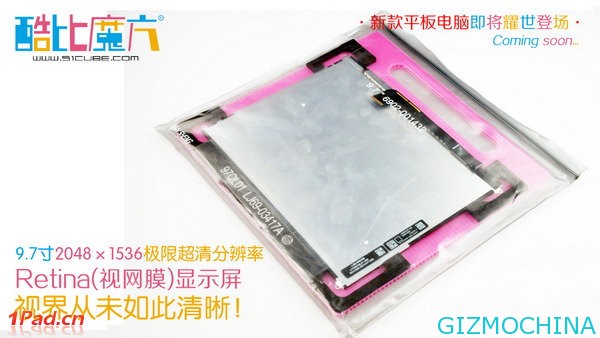 Retina Display technology become more popular since Apple has released iPad tablet, and now the Retina Display technology is not for Apple monopoly, from the domestic manufacturer, there is  a CUBE tablet PC.

The Cube tablet PC pack with 9.7 inches screen size with 2048 x 1536 resolution Retina display, this display panel is same with Apple's New iPad display. This will undoubtedly since Retina Display offers clear and sharp image, it seems that a new round of domestic Tablet PC resolution upgrade war broke out.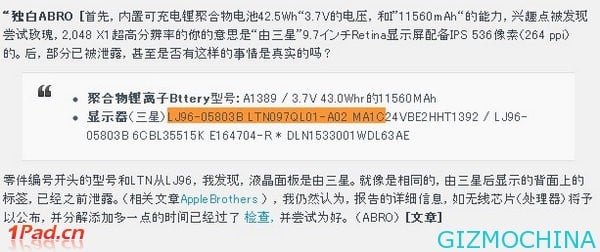 Retina Display is a brand name used by Apple for liquid crystal displays which they claim to have a high enough pixel density that the human eye is unable to notice pixelation at a typical viewing distance. The term is used for several Apple products, including the iPhone, iPod Touch, iPad, and MacBook Pro.
Since Apple launched the Apple New iPad, The inventory of retina display component becoming surplus and the use of Retina Display component is inevitable that there are now several manufacturers use this screen components.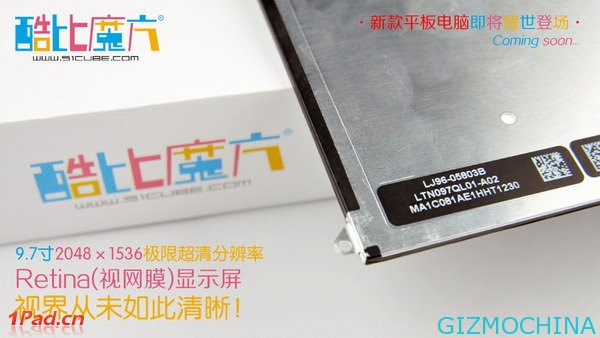 But for now, the introduction of CUBE tablet devices with a screen 9.7-inch retina display still takes a long time until the product is actually present in the market. But we have a few photos showing that the tablet will use a Retina Display component with a code number LJ96-05803B-A02 LTN097QL01 MA1C081AE1HHT1230.
Based on the information, the components are manufactured by Samsung and are specially made for the Apple iPad, and now those components has been made for Cube tablet device.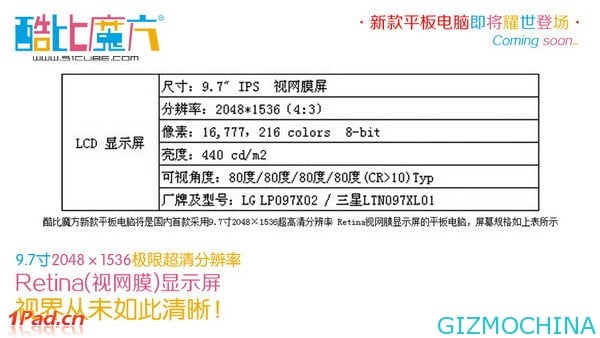 Although the detailed specifications of the CUBE tablet device has not been announced, but it looks like the tablet will have a dual-core processor with 1GB of RAM, while for the price, it looks like this device will have a high enough price for customized specifications and components used, but the increase of price will not too significant because it is targeting for domestic market. At the same time, there will be plenty of Android apps that can match to the resolution of the retina display.