Yet another Galaxy S III knockoff based on MTK6577 dual-core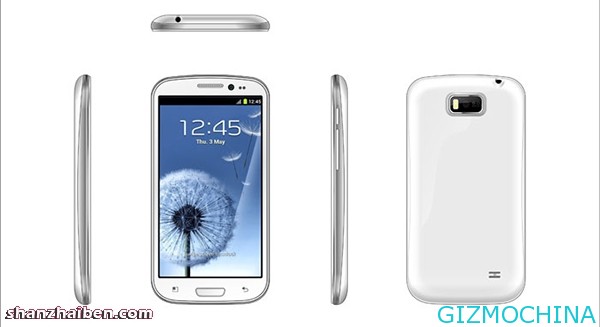 After we've covered few Samsung Galaxy SIII knockoff smartphone, its now there is another Galaxy S III knock-off based on MTK6577 dual-core chipset, thats come from Jajatong Technology based in Shenzhen. Thats 9300+ smartphone.

This phones powered by MTK6577 A9 dual-core, sports with 512M of RAM and 4GB internal storage, packs with 5.3-inch screen with 960×540 resolution, there is front facing camera and 8 megapixel rear facing camera, two LED lights, dual-card double standbye, WCDMA, Bluetooth 4.0, G-sensor, light sensor, GPS, magnetometer, FM, WIFI, 3G, and running Android 4.1 Jelly Bean operating system. This phone offers 2 x 2800 mAh battery.
Here is the picture of the device: