Socool X10, yet another iPad knock-off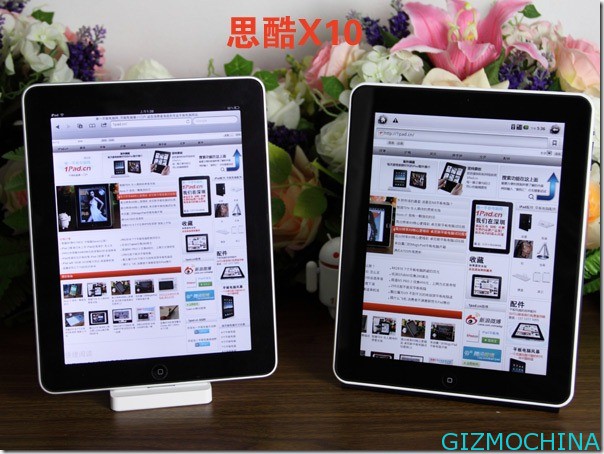 After we have Apple new iPad on the market, the domestic manufacturer still producing an tablet device which has a similar shape and form factor with the first generation of Apple iPad tablet, and now we have iPad knock-off called Socoll X10.

Socool X10 has 712g weight, while as you can comparing  to the real iPad is 713g. So this device has very similar with only one gram different with the real iPad. While the Socool equipped with  9.7-inch LG IPS multi-point capacitive screen with the resolution of 1024×768n pixel.
While there is no camera on iPad, you can find the 3 megapixel camera on Socool X10 tablet, this is a plus point since first generation iPad didn't packs with camera.
Socool X10 is powered by Freescale i.MX515 processor based on Cortex A8 architecture, running at 800MHz frequency, sports with 512MB of memory and 8 GB of storage and powered by a 3800mAh battery. As to iPad , it is known to us all that it is equipped with its own A4 processor also based on Cortex A8 architecture, 1GB frequency, 256MB memory and 16/32/64GB storage and its battery is close to perfect which can provide 10 hours working time and 30 days stand by.
In addition, Socool X10 has a better performance on browsing website and video playback for its Chinese created chip.
Unfortunatelly we don't have any information about the price, but we're sure the price of Socool X10 tablet is more cheaper than the real iPad tablet. Here are few picture to show you the comparison between Socool X10 tablet with the real Apple iPad.