Xiaomi 1S youth version will be sold for 1299 yuan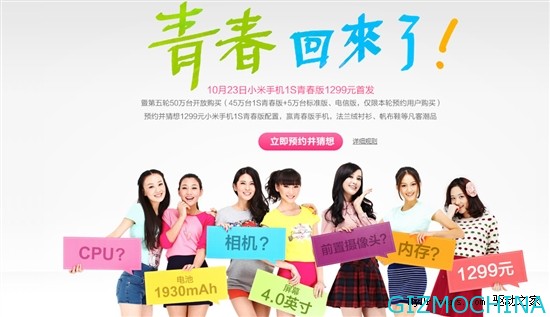 Xiaomi has been unveiled the Xiaomi 1S smartphone youth edition yesterday, and now they has been offcially ananounced the smartphone,  as well as its time-to-market and the number of the first batch started selling.

We have heard about the launching time will be open at 12:00 on October 23rd, and Xiaomi has been preparing 450,000 units Xiaomi 1S Youth edition for 1299 yuan price tag while Xiaomi standard edition has been prepared for 5 million unit for 1499 yuan price tag per unit.
The Xiaomi 1S Youth edition has 4 inch screen size and powered by 1.930 mAh battery capacity, sports with built-in 1GB of RAM and powered by dual-core processor which running at 1,5GHz clock-speed. This clock speed is downgrade version from 1,7Ghz clock speed.
The Xiaomi 1S Youth version has reduce camera capability, you can grab the picture using 5 megapixel rear camera and 1,3 megapixel front facing camera while Ciaomi standard edition has 8 megapixel rear camera and 2 megapixel front facing camera.