Comparison Picture Kai Excursion T1 vs Samsung Galaxy Beam I8530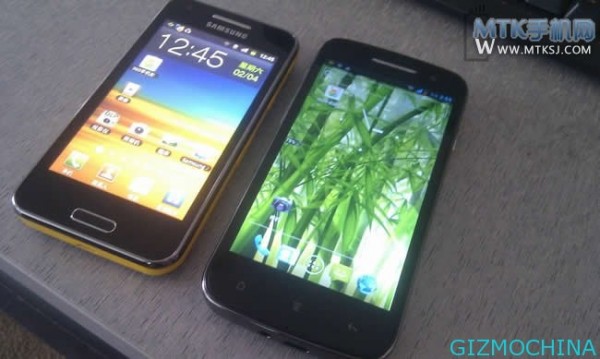 We've ever covered the Kai Excursion T1 Android smartphone, this is domestic smartphone packed with Projector inside, this is not the first products since Samsung also has similar products called Samsung Galaxy Beam I8530 Android smartphone.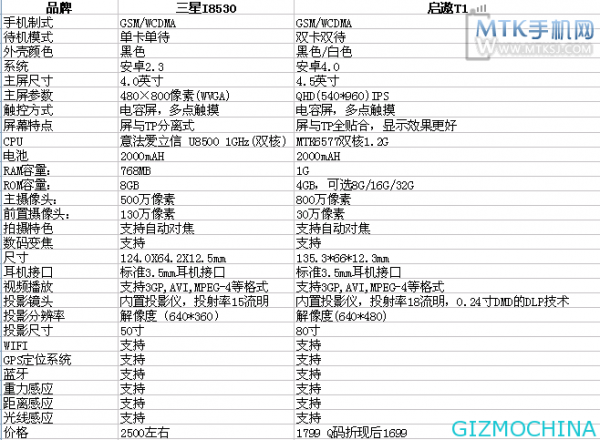 And now we want to make comparison between Kai Excursion T1 and Samsung Galaxy Beam. Kai Excursion T1 smartphone has been available on the domestic market since October 8th and has 1799 yuan price tag while for now the price is reduce to 1499 yuan price tag.
In the first launch of pre-sale Kai Excursion T1 has been sold for 3000 unit. Kai Excursion T1 powered by MediaTek chipset MT6577 dual-core 1,2Ghz processor, packs with 4.5-inch sceen size IPS screen wich has 960 x 540 pixel display, sports with 1GB of RAM and 4GB ROM and there is three optional storage 8GB,16GB amd 32GB.
There is 3 megapixel front-facing camera and 8 megapixel rear facing camera which support for autofocus and 720p video recording and running Android 4.0 operating systems, the dimension is small enough since this phone is equipped with 18 lumens, 0.24-inch DMD DLP technology projector which has 640X480 rsolution, the dimension is 135.3X66X12.3mm, this phone also support for gravity sensor, proximity sensor, light sensor
Kai Excursion T1 body is 30 inch, more larger than Samsung Beam I8530, it's mean the kai Excursion has more larger projector area than Samsung Galaxy Beam. Compared to I8530 has 127 x 64.2 x 12.5mm of size body, while Kai Excursion T1 has 135.3 x 66 x 12.3mm relatively bigger screen display.
Here are the compare picture between both devices: