A picture of Xiaomi TV components has been exposure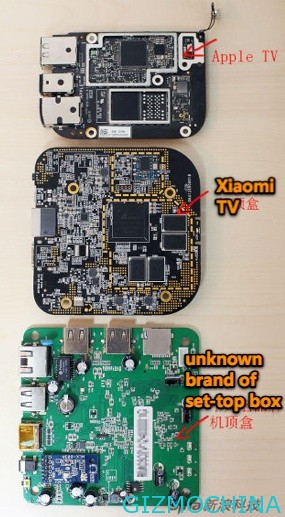 After we've covered the news about Xiaomi set-top-box TV few days ago, and now we have a leaked picture of Xiaomi TV components.

The rumor said that Xiaomi will unveiled their set-top-box device is look like Apple TV device which powered by powered with dual-core Qualcomm CPU and have at least 1GB RAM, and running Android 4.1 Jelly Bean OS.
The anonymous tipster to that forum also says the Xiaomi box will cost 499 RMB (US$80), up from the earlier rumor of a mere 299 RMB, Also, it will support both Apple's Airplay and DLNA protocols to allow streaming over wifi to your TV from other devices, such as smartphones or laptops on your home network.
We reached out to Xiaomi staffers in Beijing, but were told there's "no official comment" from them. If this is for real, then it appears there are devices out there that are either at fairly early prototype stage, or perhaps even up to limited test-manufacturing batches. The rumors continue to indicate that Xiaomi's Apple TV challenger will be unveiled in mid-November, ready for the usual buyers rush before Chinese New Year.