ISA Aisin A19, 4.7-inch smartphone with dual core technology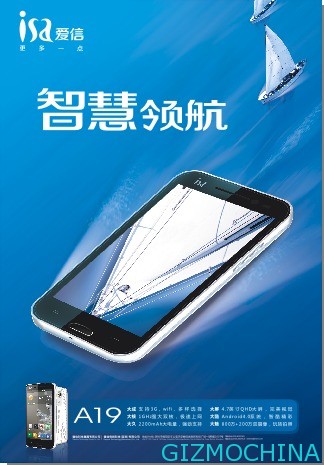 ISA Aisin Dickson Flextronics Technology (Shenzhen) Co., Ltd., after the establishment of the company has launched a variety of feature phones and smart phones, strong incoming Recent MediaTek 3G smartphone solutions, Aisin phone is planning to launch smart phones based on MTK chipset, upcoming A19 is a equipped with MTK MT6577 dual-core chipset.

According to official information, Aisin A19 hardware configuration is very mainstream, in addition to the MTK 6577 dual-core 1GHz processor, also equipped with a 4.7-inch display screen with a resolution of 960 x 540 QHD level, the memory aspects official described is 4Gb of RAM and 32Gb of ROM (see Note), converted over run memory 512M, ROM size to 4Gb.
ISA A19 has 2 megapixel front facing camera and 8 megapixel rear facing camera, powered by 2200 mA battery capacity, running Android 4.0 operating system. It is understood that Aisin A19 recently on the upcoming listing of expected market price of about 1,599 yuan.
Note: 4Gb RAM and 32Gb storage space this is just a unit conversion problem, if there is a friend learned computers understand, 4Gb = 4Gbit = 4Gbit / 8 = 512MB, bit is the smallest unit of measurement in binary bits, but also computer conversion relationship is as follows: 1B = 8bit, 1KB = 1024B, 1MB = 1024KB, 1GB = 1024MB, 1TB = 1024GB.