Runbo X5 Android smartphone with IP67 and 3800 mAh battery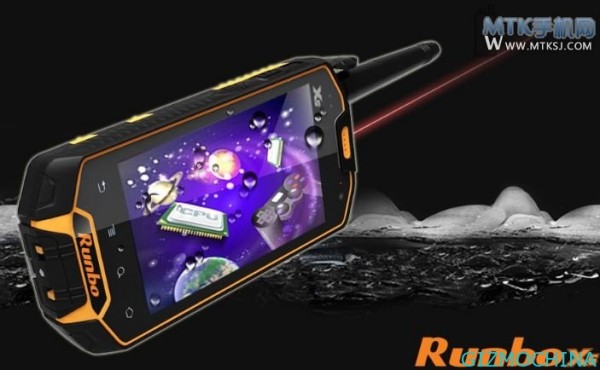 Pacific Technology Co., Ltd, based on Shenzhen has been unveiled the product Runbo brand this is the Android smartphone which ready to ship for global market such as Europe, America, Asia-Pacific, China and Africa, while the other regions foundry current Global Registry RUNBO brand, professional military mobile phone suppliers.

The Runbo X5 has excellent performance as well as military standard, since this phone packs with IP67 specification thats mean The Runbo X5 has three defenses systens, many outdoor adventure can be used in practical features, like walkie-talkie antenna, 5-10 km intercom connected to the antenna, and penetration force powerful enough laser lights, to achieve effective range of 500 meters, and is equipped with the SOS survive in the wild key.
This Android smartphone is very strong, and has abillity to water resisstant, dust-resisstant and shock resisstant.
The Runbo X5 is equipped with MTK6577 dual-core processor, 1GB of RAM and 4GB of body storage, 4.3-inch IPS screen, the X5 is equipped with a 3800 mA battery capacity, effectively guarantee their own supply situation, running Android 4.0 Ice Cream sandwich operating system and 8 megapixel camera are also mainstream.
The Interesting point is this phone has IP67 specs, thats mean this phone is very strong in any condition and situation, Runbo X5 offers 1999 yuan price tag, this phone is too bigger and too bulky for some user but very good durability and pack of many feature which needed for outdoor activity.
http://player.youku.com/player.php/sid/XNDU1NTQ5NDEy/v.swf
http://player.youku.com/player.php/sid/XNDc1NjU4ODQ4/v.swf
http://player.youku.com/player.php/sid/XNDU1NTU2OTYw/v.swf