UMI X2 Picture Is Unveiled With 4.7-inch 1080P Screen, Quad-core Processor
by Shine Wong Nov 21, 2012 8:56 am3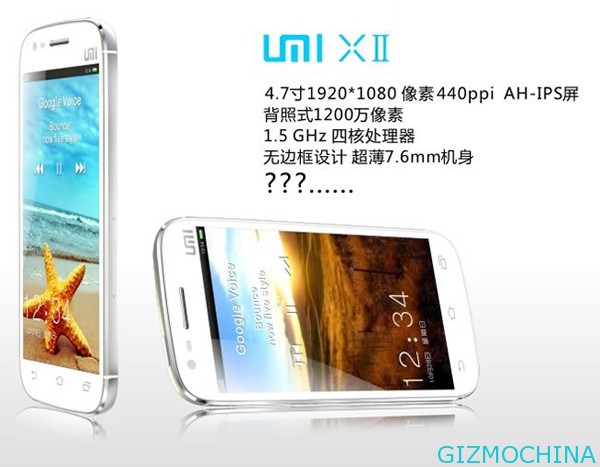 A picture is released from UMI's official website about the new phone UMI X2. From the picture, you will find the new design is similar like Samsung Galaxy S III, with super slim body.
Hardware configuration, the official gives some parameters, UMI X2 may be equipped with 4.7-inch Full HD level 1920 * 1080P IPS screen, about 440 pixels per inch, the pixel density than the current mainstream 326PPI, in fact, the PPI over 320 eye has been unable to see the screen pixels. In addition, UMI X2 maybe will equip with a 12 million-pixel camera, 1.5GHz quad-core processor, the processor model is discussion, what is MTK MT6589 or Samsung 4412? Perhaps with Nvidia Tegra3? This is still unknown.
Another official information display, UMI X2 perhaps will be equipped with new features, including NFC and so on within the selectable range, as like 7.6mm thin body and a borderless design, and price have to wait for official confirmation.