China Mobile will open NFC mobile phone SIM card space to push mobile wallet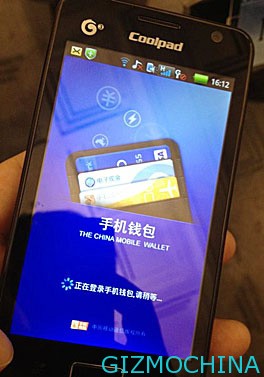 In December 5th 2012, forthcoming Worldwide Developers Conference 2012 will be held, and China Mobile announced the opening of the NFC mobile phone SIM card space, hand in the majority of industry units, enterprises, to the user through a multi-application open platform to promote the use mobile payment sing mobile wallet. The new NFC-based products – mobile wallet (on-site payment) will also be published in the conference.

China Mobile's mobile wallet service is loaded on an NFC-enabled mobile phone SIM card users a variety of e-card application (such as a bank card, bus card, campus / business card, membership card, etc.), to provide users find, download function, use, delete applications security space services. NFC enable phone will use to using this services.
NFC (Near Field Communication) is a mobile phone carriers, non-contact IC card application on the phone to the card reader, point-to-point three application modes, mobile payment industry applications services of the redeem, electronic ticketing, identification, anti-counterfeiting, advertising a variety of applications. Where multi-application open platform is the core platform to carry out mobile wallet service, unified by a whole network of mobile e-commerce base operations support. Industry units and enterprise applications can be deployed in a multi-application open platform, users can download the client from the platform and application installation to mobile phones and SIM cards, multi-application, open platform for each application is assigned separate card space, and provide security control services to ensure the security of the application.
Far for now, China Mobile and China Merchants Bank, China Construction Bank, Shanghai Pudong Development UnionPay card application cooperation. The platform has the cooperation of the introduction of the third-party applications can be broadly divided into three categories: financial and banking, public transport, enterprise, campus card class.
Relevant sources, China Mobile released NFC application in the Worldwide Developers Conference will further open platforms and open cooperation policy in the public transport card and bank cooperation. Continues to mature and to promote in-depth as the consumer environment, there will be more and more convenient application added to the multi-application open platform for hundreds of millions of mobile users, to form a win-win solution and jointly promote the development of the industry.