Meizu MX2 ready listing in the market on December 19th with M8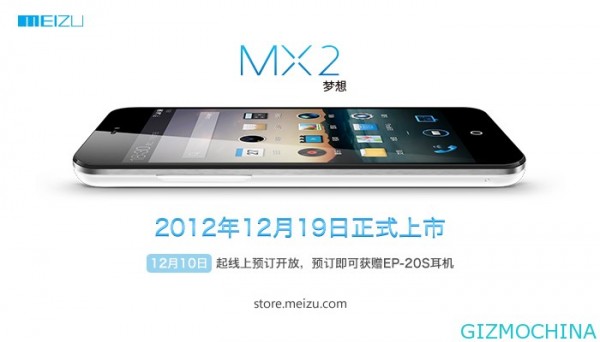 Meizu MX2 will be launched globally on December 19th in China, Hong Kong, Russia and other places at the same time, the official retail price of the 16GB version 2499 yuan mobile phone, while the 32GB version priced at 2999 yuan.

Meizu MX2 has been launched by adding a number of features to enhance the user experience, so Meizu MX2 will be a phone that attracted many users because it Meizu have made a pre-order to avoid long queues at these phones present in the market.
Meizu will open officially online booking channel is open from 10:00 am on December 10, 2012, it will also coincide with the official Meizu shop online, the National Certification Meizu shop, Jingdong Mall (as the first exclusive partner for Meizu MX2 generation) Meizu MX2 booking also applies to all types of 16GB or 32GB, all customers will receive a pair of headphones EP20S.

The last November 27th, a new generation of Meizu MX2 smartphone has been introduced in the Water Cube, Beijing. As a new generation of Meizu flagship smartphone, MX2 has offered users a mobile phone with the latest technology, 4.4-inch screen size with 16:10 ratio, the phone also presents a captivating design with Flyme 2.0 interface with the based on Android 4.1 OS
Per-order Meizu MX2 online
At 10:00 am on December 10, Meizu's official website will open pre-orders of the phone MX2, buyers are required to provide 200 yuan as down payment and get a ticket that can be redeemed at the time of the phone is available and pay the rest of payment available, please go to Meizu.com website.
Meizu National Certification booking:
Users who previously had an order on December 10, will receive the Meizu National Certification booking when making the booking and payment of the remaining items you must turn immediately paid items will be delivered the next appropriate number.
How reservations through Reserve Jingdong Mall:
Since December 10, the user can come to Jingdong Mall to register pre-order of Meizu MX2 smartphone.
Discounts for Meizu M8
For buyers who place an order for Meizu MX2 32GB/64GB official version it will be given the opportunity to get Meizu M8 phone at a discounted price for 700 yuan, this is true for buyers of mobile phones Meizu MX2 32GB is priced at 2999 yuan or a 64GB version with has 3299 yuan.
If you are out of China, order it at here: Android-sale.com