NVidia Tegra 4 has been leaked on the slide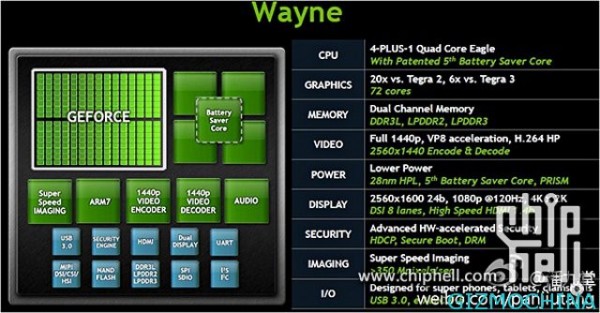 The rumors about NVIDIA Tegra 4 Chipset is circulating on the web and will be present at CES 2013 which be helds on January 8 to 11, 2013, and we have the latest information leaked from Chinese technology website. According to the site, the Tegra chip, codenamed Wayne 4 has to use power-saving processors with 28 nm cores fifth as battery saver so that the chip can be said 4 +1 quad core CPU.

This info is also in the form of a slide show that Tegra 4 has 72 core GPU will perform 20x faster than Tegra 2 and 6 times faster than Tegra 3. Additionally the Tegra 4 chipset is also capable of supporting a resolution of 2560×1600 pixel and Full HD 120Hz refresh rate output.
For connectivity Tegra 4 has support USB version 3.0 port for memory and also supports dual channel types DDR3L. If this information is true, Samsung and Qualcomm got heavy contender in the world of SoC (system on chip) popular Android devices.