46 percent Android market owned by Samsung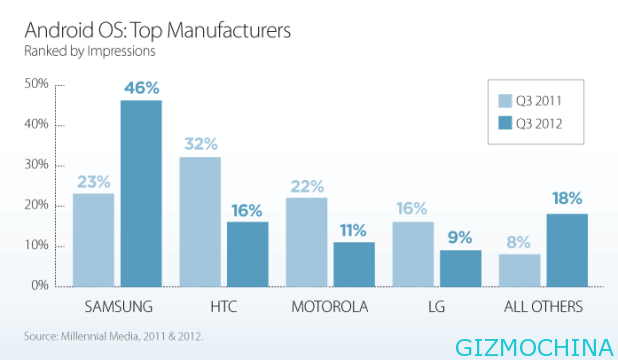 The year 2012 was a golden year for Samsung Mobile. In this year, a company based in South Korea was re-claimed as a mobile phone manufacturer that dominates the Android platform.

In the third quarter of 2012, 46 percent of Android devices are on the market is owned by Samsung. Achievement of this one was not too surprising. Moreover, some of the latest mobile phones such as the Samsung Galaxy Note II or the Galaxy S III is a high attention from consumers.
Samsung's dominance in this year doubled compared to the year 2011. The increase was due to a decrease they get the marketing done by HTC, Motorola and LG.
Of the three manufacturers, HTC is the worst. Just imagine, in 2011, HTC managed to control 32 percent of the Android device market. That number dropped dramatically to only 16 percent in 2012.