New FSL tablet packs with 7-inch IPS screen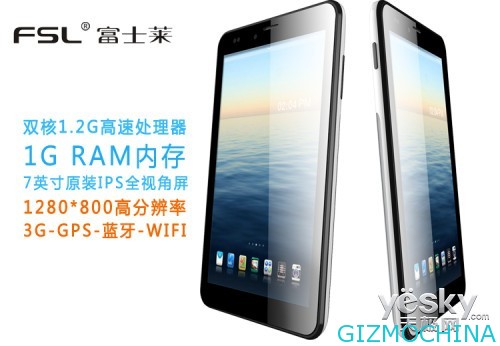 The one of Shenzhen based electronic manufacturer Fushilai or also known as FSL is preparing their new FSL tablet which packs with 7-inch IPS screen size. According to the company insiders, FSL is ready to release new tablet but there is no information about the name of the tablet yet. However, the FSL new tablet will using the different method from previous products, this new tablet will powered by MediaTek processor rather than the previously used Rockchip and Intel chip.

The new tablet will has 9.9 mm slim body thickness, and as we mention before, the new FSL tablet will use low-power chips from MediaTek is the MTK6577 dual-core 1.2GHz A9 architecture, higher performance also more energy-efficient, and sports with 1GB of RAM.
The tablet also capable for playing HD games and applications. Packs with 7-inch IPS screen and has wide viewing angle screen is also one of aspect, it is learned that a resolution of 1280 x 800 display a more delicate, but the PPI is not too high.
Since it uses MTK6577 processor, the Tablet also supports for the call feature and support for Bluetooth, WIFI, GPS and other common functions. However, for a while now we dont have any information about the price and availability, but the price will be more friendly than we expected since FSL product is always offers their product with affordable price, so let's wait.