Thin and light Huawei with 6.1 inch 1080p screen, exposure again
Earlier today, the chairman of Huawei Samrtphone Yu Chengdong on the microblogging said they are using the world's largest mobile phone, although it is very thin and light, but has a comfortable on single hand, of course, the real effects are great.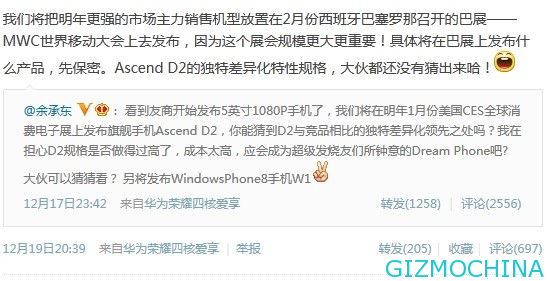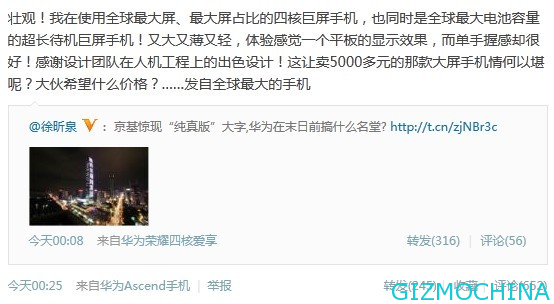 The open from exposure before Yu Chengdong use this phone Ascend Mate. It is reported that the smartphone equipped with a 6.1 inches 1080p touch screen, powered by Hass K3V3 with a frequency of 1.8GHz quad-core processor, sports with 2GB of RAM. In addition, the smartphone will be equipped with a 4000mAH large capacity battery, and a thickness of less than 9.9mm.
In addition, Yu Chengdong also said, this becoming the world's largest mobile phone advantages, Seems Huawei want to beat the Samsung Galaxy Note 2, intended to Ascend mate with a price quite a force. While for now, the smartphone will be showw off at MWC 2013 exhibition in February next year.