Get the Xiaomi Unicom version for free until December 25th, 2013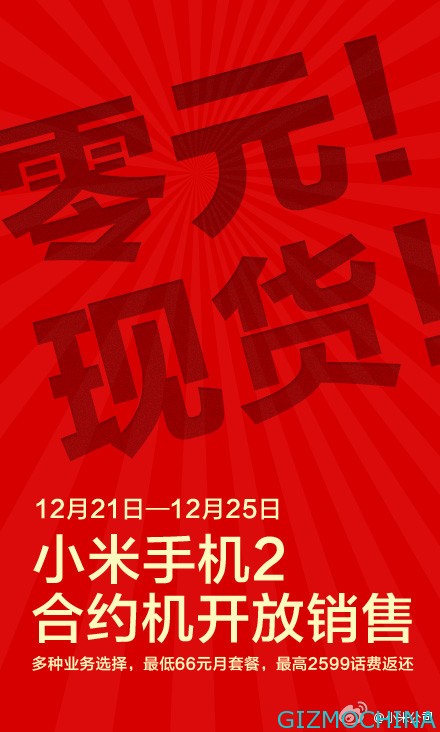 Xiaomi has been claimed in their official microblogging site, from now until December 25th, as long as you save 2599 yuan Unicom calls, you can get a free Xiaomi phone. The remaining pre-deposit will be returned during the contract period on a monthly basis.

Xiaomi 1S smartphone stored calls 1599 yuan, the network that free calls back to 319 yuan monthly return of remaining pre-deposit contract period.
Conditions:
the purchase price = Xiaomi phone purchase section 1999 (2299) yuan + the stored calls amount.
you need to purchase a number of China Unicom.
you need to be signed in 12 months net. Choice of 66-186 yuan stalls and the corresponding basic package A, B, C in any one.
your stored calls, 200 yuan immediate arrival, the remaining part will be the 12 month of the monthly return to your cell phone account.
For example: If you buy Xiaomi phone 2 (16G) + 66 gear package:
The mobile phone of 1999 yuan;
66 stalls stored 320 yuan;
so that your cart amount for 1999 +320 = 2319 (yuan).
200 yuan after the network immediately credited into account, starting next month, the monthly return stored 10 yuan, 20 yuan monthly gift calls, your account Daozhang 30 month consecutive year.