The new ZTE P945 smartphone has been leaked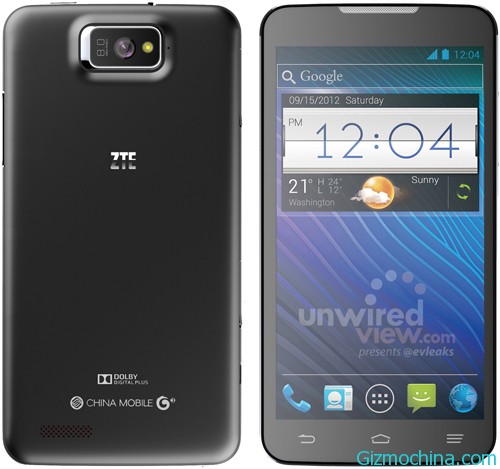 ZTE is trying to producing new lager size screen smartphone, this phone is got the phablet category. And the new ZTE device is exposure through @evleaks.

The new ZTE phone is expose with 5.7-inch screen size and running Android operating system. This device has similar with ZTE Z5 with 4-core 1.2GHz CPU. The phone also has 8 megapixel camera with an LED flash.
On the rear body there is a China Mobile logo and G3 logo also indicates that the device will be available for those provider. There is a headphone jack at the top of the phone, while a microUSB port on the left and the right side is the volume key, and the power / lock screen button at the top.
According to sources, the thickness of the body of the device for 9mm, this phone is powered with 3000mah battery capacity, and running with Android 4.0 ICS or newer.
We estimate that still ICS version of the device, testing, and other officially listed, it may require Android 4.1 or 4.2 Jelly Bean version. ZTE is likely to exhibit this device on the CES 2013 this week or MWC 2013 next month.