Lenovo K5, 5.5-inch smartphone with Intel Merrifield Dual Core heading to CES 2013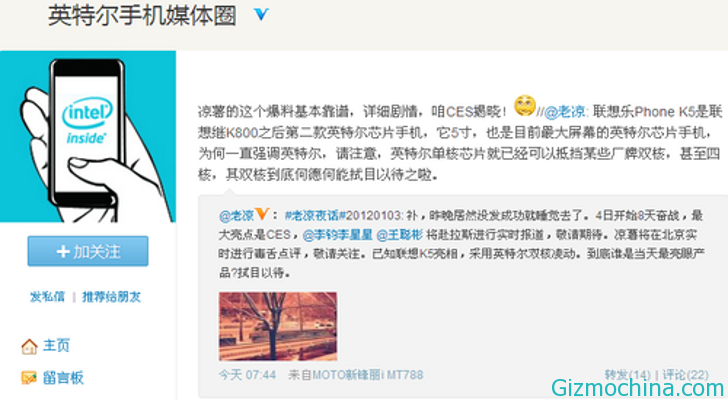 As we mentioned before, Lenovo reportedly will bring a new big screen smartphone, those phone will be introduced at CES 2013. The smartphone come with a dual core Intel Merrifield  processor and packs with 5.5-inch screen size.

The processor is said to be having speeds between 1.6GHz to 2.0GHz sports with 2GB of RAM. According to news, those smartphone will running Android 4.1.2 Jelly Bean operating system and have a super slim size with 6.7mm thickness.
In addition, this phone will offer dual SIM card. In the back, this phone has a 13 megapixel primary camera plus a 2 megapixel front-facing secondary camera. While the battery powered by 3500 mAh capacity.
And, just as the trend in 2013, this smartphone packs with large screen that combine with full HD screen resolution. Regarding to the prices, this phone will be sold for 3400 yuan or about $545 USD.