Huawei Ascend W1 first appearance at CES 2013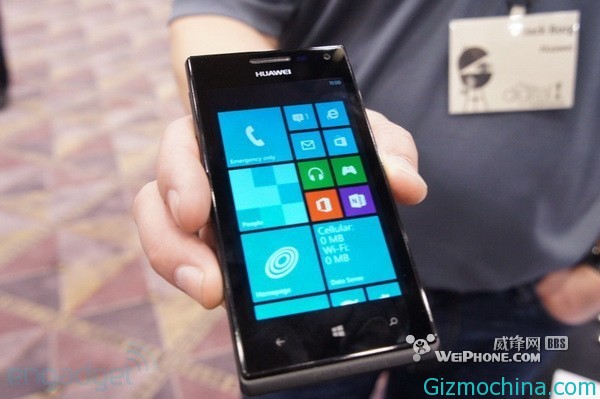 While we have covered the news about Huawei Ascend W1 today, and now we have a couple picture and video of those phone at CES 2013 event in Las vegas, The Huawei Ascend W1 is the first smartphone come from Huawei which running Windows Phone 8 operating system.

Huawei Ascend W1 hardware configuration is different with the Huawei Ascend Mate, and Ascend D2, is's seems just because the Huawei Ascend W1 is the test version of Windows Phone 8 system.
Huawei Ascend W1 is equipped with a 4-inch screen (resolution is unknown), equipped with a 1.2GHz dual-core Snapdragon S4 processor, RAM is only 512MB but the memory capacity is 4GB, Fortunately, the users can be expanded to 32GB via microSD card.
Ascend W1 has 10 mm body thickness, this thickness is in fact a little thick and  "slim", the phone is powered by 1950mAh battery, which standby time of 7-9 days, because it runs is to reduce energy consumption.
Ascend W1 has a 5 megapixel rear camera, a VGA front facing camera, giving the general impression. Ascend W1 corresponding fast and excellent viewing angle. Unfortunately, there is no information about the price and when this phone available on the market.
http://www.viddler.com/v/89889135