Samsung unveiled Exynoss 5 octa chipset at CES 2013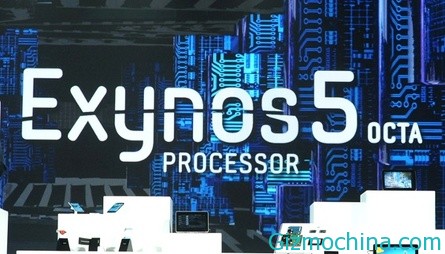 Samsung still provide surprises at CES 2013. This time the number one smartphone manufacturer has announced the emergence of global Exynos chipset 5 Octa, a new chip for mobile with 2 x 4 core processor.

In the Exynos 5 Octa there are four core Cortex-A15 and 4 cores of Cortex-A7. Chip will distribute the workload to each core, with four Cortex-A15 core used in a high level of performance and four Cortex-A7 used to work does not require a high workload and will save battery power consumption. To manage performance, Samsung Exynos 5 Octa use ARM big.LITTE technology that can ensure users obtain sufficient performance without wasteful power.
Samsung said that the power consumption will be less than 70% of Exynos Dual 5 currently installed on Google Nexus 10 and the latest Samsung Chromebook. Exynos 5 Octa also has the ability to render three-dimensional two-fold better than the Exynos Quad 4 contained Galaxy Note Galaxy S II and III.
Currently no information on what the device will menggunakanExynos 5 Octa this. However, predicted that the Galaxy S and Note future generations will use this new chipset.