Ainol NOVO 7 Venus, Quad-core tablet with only $112 USD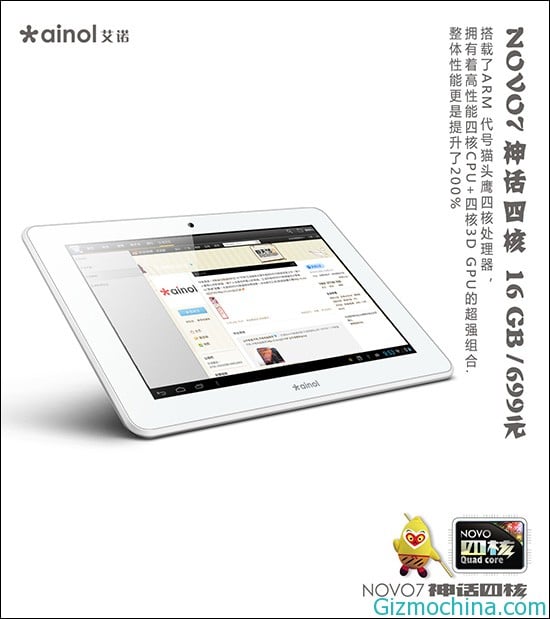 Ainol as one of the Chinese tablet manufacturer has unveiled their new tablet device, thats Ainol NOVO 7 venus. This is new Ainol NOVO series tablet which powered by Quad-core processor and offers with affordable price.
The new Ainol Novo 7 Venus is powered by ARM code owl quad-core processor, has a high-performance quad-core CPU + quad-core 3D GPU combination, 7-inch screen with  1280 x 800 high-resolution screen, support for multi-touch and available for 16GB storage capacity which offers  for 699 yuan or $112 USD.

The Ainol NOVO 7 Venus quad-core equipped SMP symmetrical high-performance quad-core – ARM Code owl quad-core processor, has a high-performance quad-core CPU + quad-core 3D GPU super combination, the overall performance more than the dual-core processor is to enhance 200% performance. While Quad-core 3D GPU with a proprietary independent 2D GPU separation technology, to show the strength of leading to the same level of graphics rendering, quad-core 3D GPU to help run the large 3D games, 2D GPU to better enhance the quality. Whether it is the daily drawing, office, or large-scale 3D games, HD movies, NOVO 7 Venus will is the right for you.
NOVO7 Venus quad-core sports with a 1280 x 800 resolution while the 7-inch high-definition hard-IPS screen has a gorgeous color and also has fine quality. In addition, NOVO7 venus quad-core will also fully support 1080P high-definition video, mainstream with play HD video impeccable. HDMI1.4 interface, you can also sync output 3D video, stereo audio and video to enjoy more fun.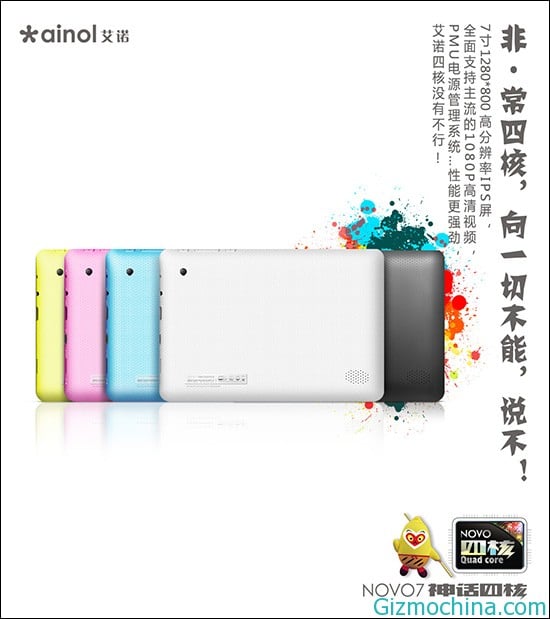 Ainol NOVO7 Venus is packs with PMU intelligent power management system, the world's leading in full play to the high-performance, ultra-low power consumption at the same time, the system there are three significant features: the smart core module management, according to the running state required consumption, intelligent switch quad-core chipset, two or even three of the core, to achieve the best real-time operational; DVFS Dynamic FM technology (Dynamic Voltage and Frequency Scaling), according to the size of the system load dynamically adjust each module operating voltage, with the intelligent core module, you can greatly save power; intelligent backlight adjustment system, required interface content according to the real-time display of the screen backlight brightness, intelligent monitoring, real-time adjustments to ensure the lowest power consumption for system while running. Long battery life, low heat generation, high-performance, intelligent environmental protection, is as simple as that.
The Ainol NOVO 7 Venus will be using the front and rear camera system, let you easily taking a videoor  scan the two-dimensional code. Thsi tablet also support video synchronous playback function. Open any programs while the 6-way video player can still reach the top level of its class multi-threaded and multitasking computing.
The NOVO 7 Venus quad-core will also support high-speed WIFI connectivity for more comfortable Internet access. HDMI1.4 interface, OTG interface, TF card interface, vibration feedback, gravity sensor rich configuration for video, audio, games, Internet access and other applications to provide a broader space to develop. Choice of more colors, more texture design, it will give you no longer monotonous style.