Runbo, the Android intercom from China manufacturer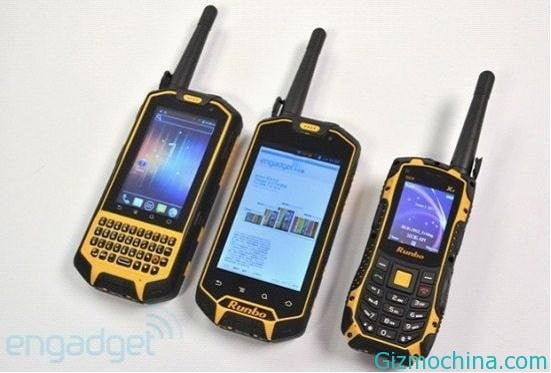 In CES 2013 that was helds last week, we found another interesting products which came from Chinese manufacturer, while there is a lot of Android smartphone, there is another device which is intercom device came from Runbo.

Runbo is show three type of intercome device that has unique design, this device is represent the anti-dust and waterproof device in addition the "Runbo" is heard as Rambo, the classical movie which starring by Silverster Stalone as a solitaire army who fight at the forrest.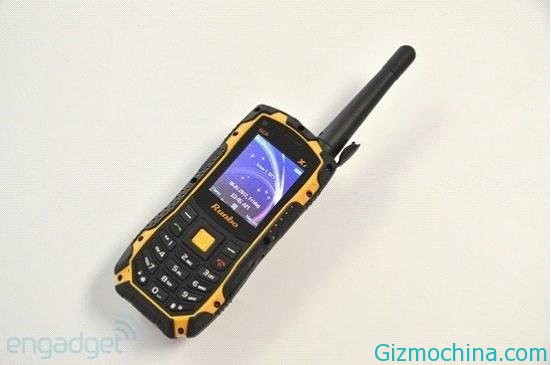 Runbo X1 is the one of Runbo product which has IP67 certification, it's mean the device is watrerproof, anti-dust and shock ressistant.
Runbo X1 has a 2-inch 176 × 144 resolution LCD with 3 megapixel front-facing camera and a laser pointer, support quad-band GSM network and 800MHz CDMA network. As the use of the walkie-talkie, it's working band of 400MHz to 470MHz, and through software tuning.
Said in recent days, this product will be in Taobao sale price of 980 yuan (or about $ 160 USD). In addition, we are also told that the future will support GPS satellite positioning Runbo X1.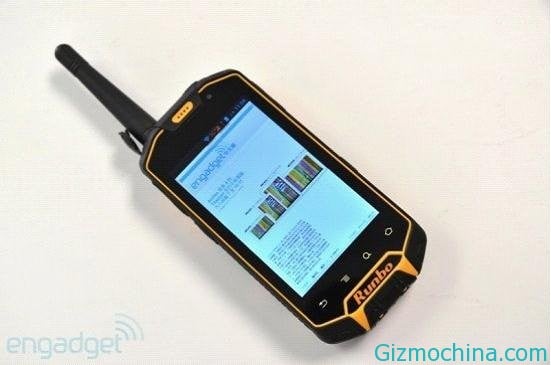 The real star is the remaining two brick-sized device, without custom Android 4.0.4 system they are using. Middle of the photo is Runbo X5, equipped with a 1GHz dual-core Cortex-A9 MTK6577 processor, has 1GB of RAM, 4GB built-in storage space and a microSD expansion card slot, equipped with a 4.3-inch 800 × 480 resolution IPS display, 8 megapixel rear camera and 30-megapixel front camera, and a laser pointer controlled by installing applications. Runbo X5 has two SIM card slot, to support 850/1900/2100 tri-band WCDMA and GSM networks, as well as Wi-Fi, Bluetooth 3.0 and GPS satellite positioning function. Speaker volume odd removable bulky battery capacity of 3800mAh.
Similar Runbo X1, X5 also can be used as a walkie-talkie use of the 400MHz to 470MHz band, if fitted with a detachable antenna, the intercom distances up to 10 kilometers. Finally, the photo on the left is Runbo X3. Hardware specifications and X5 are basically the same, only 800 × 480 resolution IPS display size is reduced to 3.5-inch, leaving space below the full-size keyboard.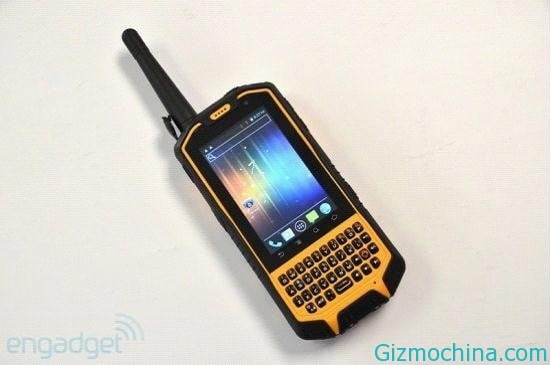 In our opinion, the low price is the biggest highlight of Runbo X3 and X5. As the two passed IP67 international the three defenses standard certified products, they are 1,999 yuan (or about $320 USD) to the price of the official website Taobao and vendors.
For the three anti-mobile phone for a while for intercom use, so the price is great value. You can also be ordered directly through eBay, although the price is upwards of $ 380, still a very cost-effective.