Huawei Ascend Mate officially released in China on February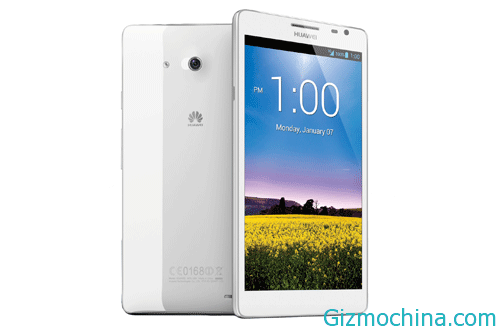 On The Consumer Electronic Show (CES) 2013 Huawei has been introducing their new phablet device, The HUAWEI Ascend Mate. This is the first smartphone which equipped with largest screen size in the world. And now this smartpone has been officially released to the market.

HUAWEI Ascend Mate 6.1-inch HD display, powered by quad-core 1.5 GHz Hi-Silicon chipset, and  4050 mAh battery. Quick battery saving technology with Power Control (QPC) and Automated Discontinuous Reception (ADRX) Huawei patents and fast technology sharing, HUAWEI Ascend Mate is proof that all things are bigger is better.
HUAWEI Ascend Mate challenge for advanced entertainment, communication and creative experiences for a variety of personal and professional needs, said Richard Yu, CEO, Huawei Consumer Business Group. HUAWEI Ascend' Mate is the leading smart phone, and the proof of our innovation, as we continue to create technology that is available to everyone globally."
HUAWEI Ascend Made has a screen ratio of physical-to-73% – the highest in the market – so as to maximize your viewing experience for email, documents, videos or games. + HD IPS LCD screen 6.1-inch has a resolution of 1280 x 720 for clarity and accuracy of color is unparalleled, and "Magic Touch? which provides sensitivity touching the screen edge, even with gloves. Ascend Mate has an elegant and sleek with a thickness of 6.5 mm at the thinnest part, is designed to be comfortably in the palm of one hand.
HUAWEI Ascend Mate has a 4050 mAh battery and quad-core processor 1.5 GHz Hi-Silicon Huawei. With smart technology and battery saving QPC ADRX Huawei, this smart phone can last up to two days for normal use, only a single charge. Ascend Mate has the fastest battery charging capability compared to the others, with a saving of more than 30% of normal battery charging time.
With global roaming function, HUAWEI Ascend Mate supports five frequency bands, making this smart phone is perfect for international travelers. The design of the two antennae supports data delivery powered and optimized by the method of maximum ratio of the merger, in order to increase network revenue by 2.5dB, and improving overall network coverage by 20 to 30%.
HUAWEI Ascend Mate has an operating system Android 4.1, the back camera is 8 megapixel AF with HDR, HD front camera and a 1-megapixel camera, and two MIC noise reduction technology, and Dolby ® stereo sound recording.
Available in black and white crystals, HUAWEI Ascend Mate went on sale in China in February 2013.