Mogu S1, as the 5-inch cheapest phablet in the world.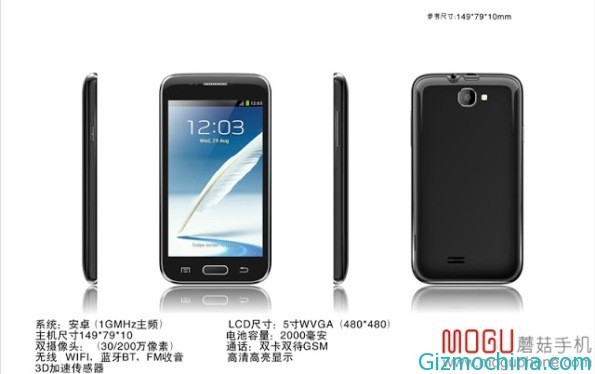 As the price of high end phablet 5 inches now soar above $500 USD per unit, was recently rumored to have emerged from China phablet 5 inches at the cheapest price, this device is better known as the Mogu S1. And was so cheap, even many people who refer to it as the 5-inch cheapest phablet in the world.

This mobile phone with super low budget has been equipped with a 5-inch WVGA touchscreen that supports a resolution of 800 × 480 pixels. As for the operating system used is Android 4.0 or Android 4.1 Jelly Bean.
Mogu S1 is powered by single-core 1GHz processor without a specific name. Besides being capable 2 MP rear camera and VGA front-facing camera, the phone also comes with several other supporting features such as Bluetooth, FM radio, GPS, WiFi and others as well as with 2000mAh capacity battery.
Mogu S1 is marketed at a price 10 times cheaper than most other 5-inch high end products on the market today. Price per unit offered is only 299 RMB or around $50 USD.