Byond Phablet PII, dual-core Jelly Bean smartphone with dual SIM card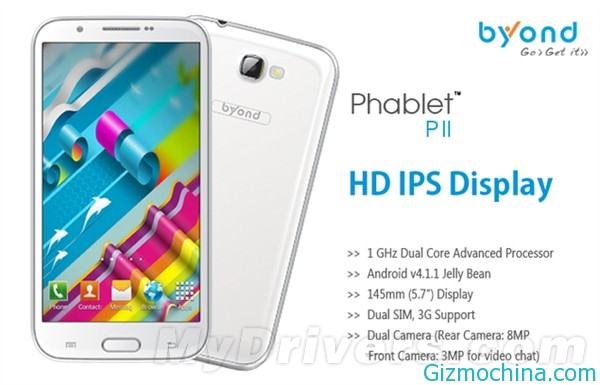 2013 is the phablet year, seems to be a revival year for the big screen smartphone tablet or known as phablet device. And recently one manufacturer has reportedly called Byond phablet models successfully released their latest 5.7-inch Byond Phablet PII.

This Phablet is running Android 4.1.1 Jelly Bean with 5,7 inch touch screen display and support for 720p HD resolution. In addition to full support of the reliability of dual-core 1.2GHz processor, Dual SIM phablet concept is also equipped with 1GB of RAM, 4GB of ROM, and packs with 8 megapixel rear camera, 3-megapixel front-facng camera and powered by 2500mAh battery capacity.
The Byond Phablet PII is priced at $270 USD