HTC One TD 101 for China Mobile, without Ultrapixel camera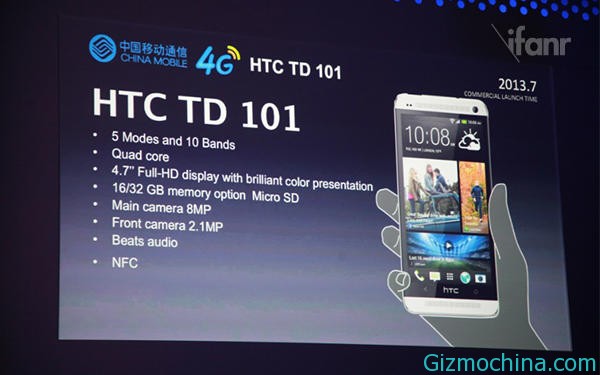 There are at least four new devices that are under the auspices of the TD-LTE network owned by China Mobile in attendance recently. As one of them is HTC One TD 101.

Unlike the global version of the HTC One generally, HTC One specifically has been built another HTC One model thats for China Mobile network, those device without a ultrapixel camera but there is 8 megapixel rear facing camera on HTC One TD 101 Android smartphone.
HTC TD 101 is packs with 4.7 inches FHD screen and powered by Quad Core Snapdragon 600 1,7 GHz processor, sports with 2GB of RAM, Adreno 320 GPU, 8MP rear camera, 2.1MP front-facing camera, Beats Audio, NFC, Bluetooth, WiFi, and 3.5 mm audio jack. Running Android 4.1.2 Jelly Bean operating system.
Besides compatible with global roaming, the HTC One TD 101 has also been supported by 5 (five) different networks, such as TD-LTE, FDD LTE, TD-SCMDA, WCDMA, and GSM. HTC One TD 101 is scheduled to be released in China on July 2013.