Here are the Country that Galaxy S 4 will you get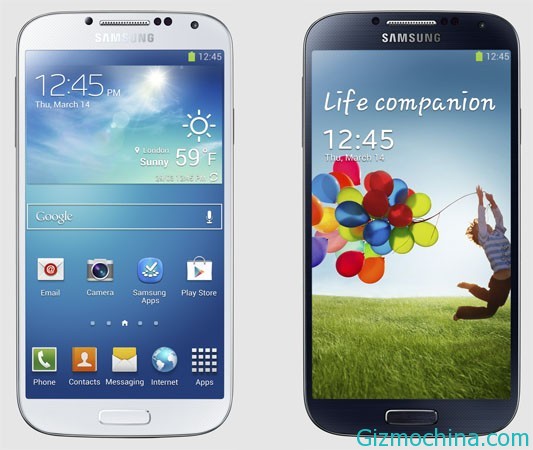 The Samsung products fans in various regions must be very curious about the launch of the Galaxy S 4 in their respective country. Especially about what version will be displayed by Samsung for its customers.

Now everything has been answered. Samsung Mobile has also released a list of countries that will be visited by the Galaxy S 4 of Snapdragon 600 version and Exynos 5 Octa version processor.
For additional information, Snapdragon 600 processor is mounted on the Galaxy S I4 has the model number GT-I9505. This processor fitted with a speed of 1.9GHz. Meanwhile, the Galaxy S 4 GT-I9500 is using Exynos 5 Octa processor which has a speed of 1.6GHz.
Here is the full list of the country:
GT-I**** = Not yet decided
GT-I9500 = Exynos
GT-I9505 = Snapdragon
GT-I9500 / GT-I9505 = Samsung will bring to version
Africa
GT-I9500 – Afghanistan
GT-I9500 – Algeria
GT-I9500 – Egypt
GT-I9500 – Kenya
GT-I9500 – Lybia
GT-I9500 – Marocco
GT-I9500 – Nigeria
Asia / Middle East
GT-I9500 – Bangladesh
GT-I9500 – China
GT-I9500 / GT-I9505 – Hong Kong
GT-I9500 – India
GT-I9500 – Indonesia
GT-I9500 – Iran
GT-I9500 – Iraq
GT-I**** – Israel
GT-I9500 – Kazakhstan
GT-I9500 / GT-I9505 – Korea
GT-I9500 / GT-I9505 – Malaysia
GT-I9500 – Nepal
GT-I9500 – Pakistan
GT-I9500 / GT-I9505 – Philippines
GT-I9500 – Russia
GT-I9500 / GT-I9505 – Saudi Arabia
GT-I9505 – Singapore
GT-I9500 – Sri Lanka
GT-I9500 – Taiwan
GT-I9500 – Thailand
GT-I9500 – Turkey
GT-I9500 / GT-I9505 – United Arab Emirates
GT-I9500 – Uzbekistan
GT-I9500 – Vietnam
Australia
GT-I9505 – Australia
Europe
GT-I9505 – Austria
GT-I9505 – Baltic
GT-I9505 – Belgium / Luxemburg
GT-I9505 – Bosnia and Herzegovina
GT-I9505 – Bulgaria
GT-I**** – Croatia
GT-I9505 – Cyprus
GT-I9505 – Czech Republic
GT-I9500 / GT-I9505 – France
GT-I9500 / GT-I9505 – Germany
GT-I9505 – Greece
GT-I9500 / GT-I9505 – Italy
GT-I9505 – Macedonia
GT-I9505 – Nordic Countries
GT-I9500 / GT-I9505 – Poland
GT-I9505 – Romania
GT-I9500 – Russia
GT-I9505 – Portugal
GT-I**** – Serbia
GT-I9505 – Slovakia
GT-I9505 – Slovenia
GT-I9505 – Spain
GT-I9505 – Switzerland
GT-I9505 – The Netherlands
GT-I9500 / GT-I9505 – United Kingdom
GT-I9500 – Ukraine