Lenovo ThinkCenter Edge 62z, All-in-one desktop PC for business and entertainment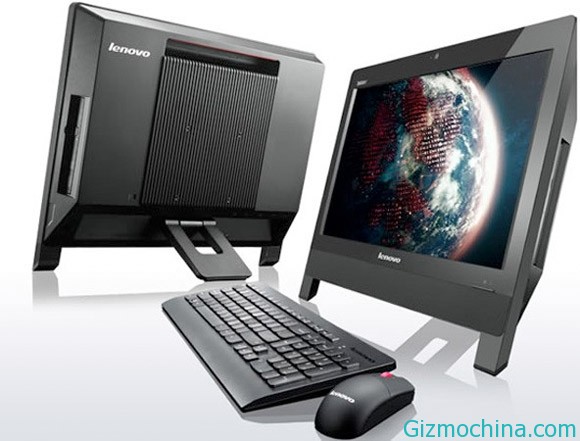 If you're like to put your room tidy, yu can using Lenovo ThinkCenter Edge 62z, this is the  All-in-one desktop PC for business and entertainment.This desktop PC is very solid and has a rigid design since using square design and black color, it's look cool than you expected.

Lenovo ThinkCenter Edge 62z packs with boasting an 18.5″ LCD and compared with ordinary 20-inch screen, one machine, you can save more than 65% of the space. In addition, the highest this one machine can be equipped with the Intel Core i3 processor, 8GB RAM, 1TB hard drive, and is equipped with a DVD reader and six USB 2.0 ports.
This ultra-compact all-in-one machine is expected in the United States in May of this year, priced at $ 549 or about 3400 yuan.
PRESS RELEASE
Lenovo Expands AIO Portfolio to Fit Small Budgets and Workspaces
ThinkCentre Edge 62z Delivers Space-Saving Design and Power Efficiency for Education and Healthcare
RESEARCH TRIANGLE PARK, NC – March 26, 2013:Lenovo(HKSE: 992) (ADR: LNVGY) today announced the latest addition to its all-in-one (AIO) portfolio – the ThinkCentre Edge 62z. With an 18.5-inch LCD screen, the Edge 62z is ideal for workspaces with a requirement for multiple PCs but where space is at a premium, including nursing stations and school computer labs. Coupled with an affordable price, starting at just $549, the Edge 62z offers great value in a compact form factor.
"Our customers, particularly in the healthcare and education markets, see the benefits of the smaller footprint AIOs in their work environments," said Chris Frey, vice president, North America channel business, Lenovo. "The ThinkCentre Edge 62z delivers on that request with a product designed to maximize space and minimize cost."
Designed for Confined Workspaces
The 18.5-inch screen of the ThinkCentre Edge 62z provides more than 65 percent space savings when compared to a 20-inch monitor, which allows organizations to place more AIOs in each workspace. It can also be mounted to the wall — the ultimate space-saver – a strategy often used in nursing stations and patient rooms to allow caregivers to quickly access vital information and enter data into patient charts. School districts often place wall-mounted PCs like the ThinkCentre Edge 62z in classrooms to encourage interactive lessons.
Efficient Power for Productivity
Equipped with up to 3rd generation Intel® Core i3 processors, the ThinkCentre Edge 62z packs powerful performance in a small form factor. For increased productivity, the AIO also features six USB 2.0 ports and Integrated Intel® HD graphics for stunning visuals.
The ThinkCentre Edge 62z highlights Lenovo's commitment to environmental energy efficiency with ENERGYSTAR® 5 compliance and an 87 percent power supply unit (PSU) for more efficient energy usage and increased cost savings. The AIO also meets the EuP 2013 energy efficiency requirement by consuming less than 0.5 Watts of electricity when turned off.
Pricing and Availability
The ThinkCentre Edge 62z all-in-one PC is available beginning in May through Lenovo business partners and www.lenovo.com. Pricing for the ThinkCentre Edge 62z starts at $549.