NOKIA Lumia 925 Catwalk officially released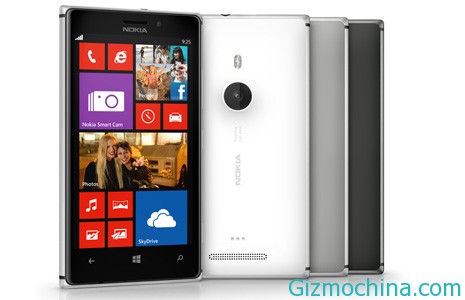 Finally Nokia officially introduced the Nokia Lumia phones that use the latest Windows 8 operating system, the Lumia 925, formerly known as the Nokia Lumia Catwalk. And appearance of this phone also has differences with previous rumors.

The most striking difference is the material used for the  body. Nokia Lumia 925 is still using polycarbonate material. However, on its side, Nokia adds frames made of aluminum.
The phone itself comes with a screen measuring 4.5 inches. The screen is an AMOLED display with ClearBlack filter that has a resolution of 1280 x 768 pixels. Nokia also claims that the screen is the most cutting-edge OLED display.
In addition this phone has a size that is thinner and lighter than the Lumia 920 with a weight of 139 grams and a 8.5 milimeter thickness. This phone also powered by a 1.5GHz Snapdragon dual-core processor and 1GB of RAM plus 16GB of internal memory. As a complement, this phone also supports LTE and HSPA + networks 4G.
At the rear, there is a 8.7MP camera that uses Carl Zeiss lens. This camera comes with dual LED flash and of course the camera is also equipped with PureView technology. As other value, there are also several shooting modes like Smart Camera mode, mode Best Faces and others.
Regarding the price, the Nokia will start selling this phone in June at a price of $ 616 USD. There are three color options are available; black, white and gray.