Teclast P88HD Quad has got JD.com promotions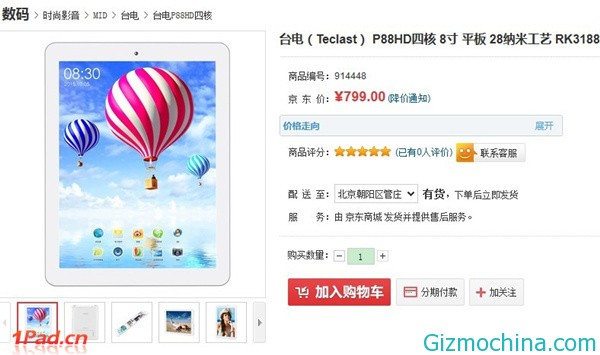 In the middle of last month, there is a new dual-core Taipower P88 device upgrade to P88HD thats powered by quad-core chipset and becoming a hot listed products.
The new TaipowerP88HD Quad is packs with 8-inch IPS screen, and like on those name, you can guest that this tablet is powered by quad-core processor configuration, the luxurious P88HD Quad is offers with only 799 yuan price tag or around $130.28 USD for 16GB storage capacity, and now Jingdong mall has been offers this products with more interesting price.
As an upgraded version from the P88 dual-core, the new P88HD Quad is sports with RK3188 quad-core processor and 1GBof RAM, while the screen resolution is 1024 x 768 through 8-inch original IPS screen display is gorgeous.
Meanwhile Taipower P88HD Quad also supports OTA automatic update feature, a key upgrade to the latest firmware, the integrated design screwless thin metal body just only 7.9mm thickness is also stylish and elegant.
In addition Jingdong Mall id offers the Taipower through the "Gifts" activities, according to the rules they will offers the tablet with universal holster, the sound interesting right?.